Day 1 – Keflavík → Vík
We arrived in Iceland bright and early and got started on our drive right away. The recent rain and clouds overhead made for some perfect lighting.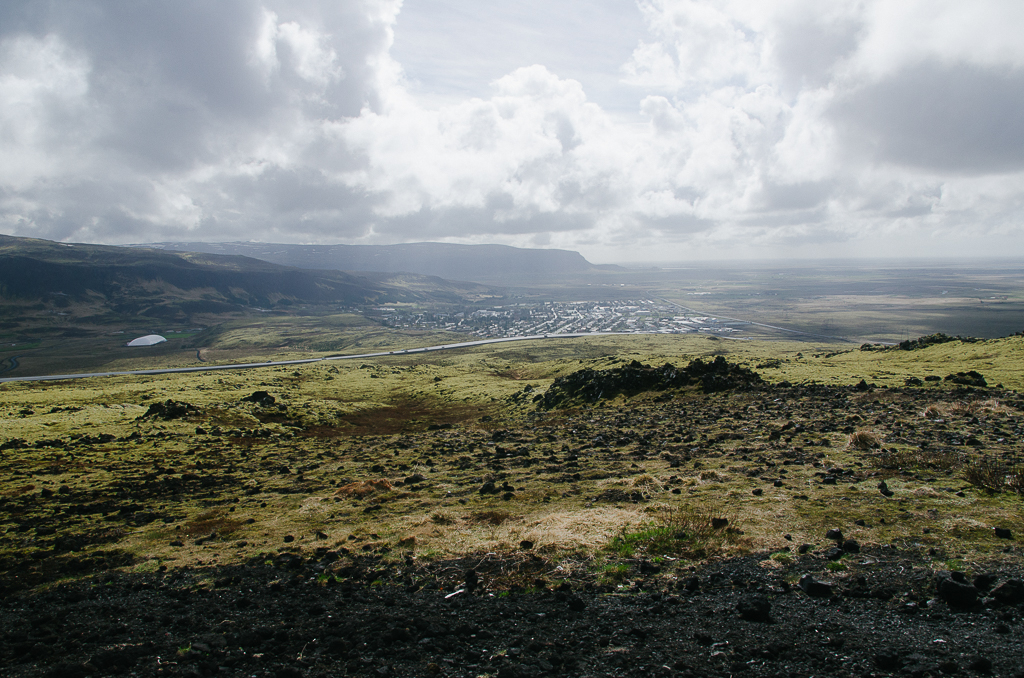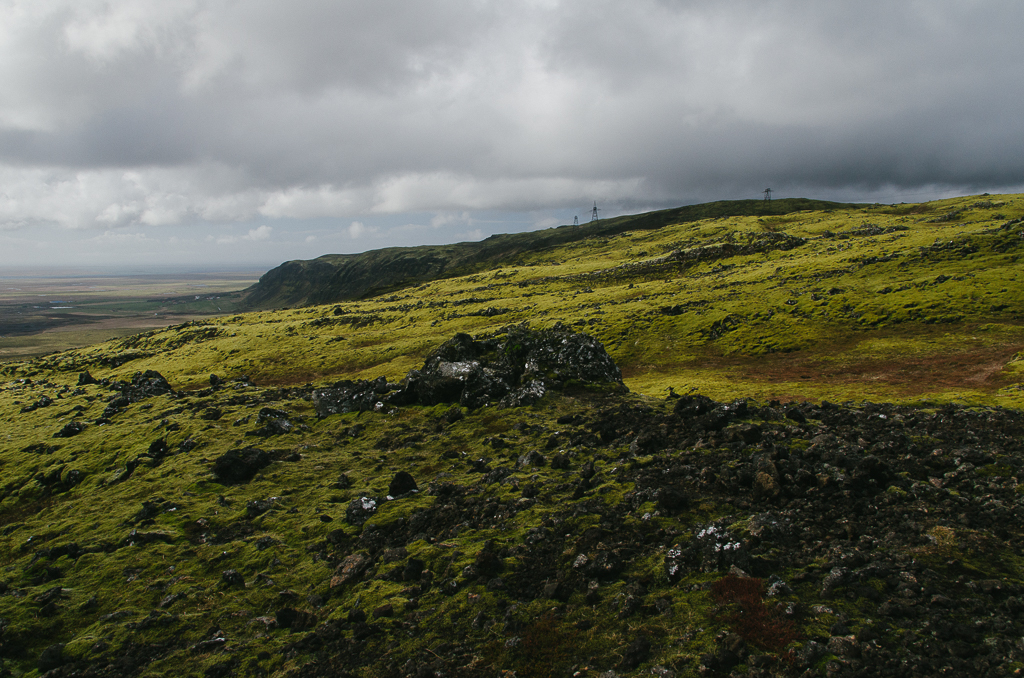 Seljalandsfoss
This was our first real stop of the trip. There is walking path that allows you to go behind the waterfall if you are so inclined.
Before heading out, be sure to take the walking path nearby that leads you to Gljúfurárfoss which can be reached by entering a small, cave-like opening in the stream. This one is easy to miss but well worth the time and effort. Side note: be ready to get drenched.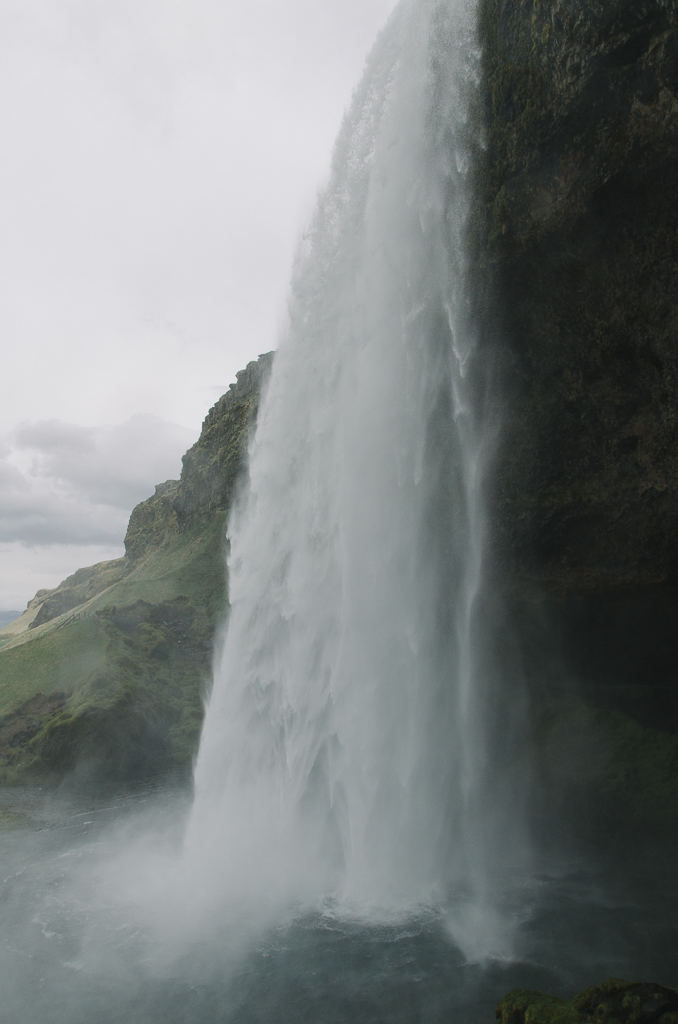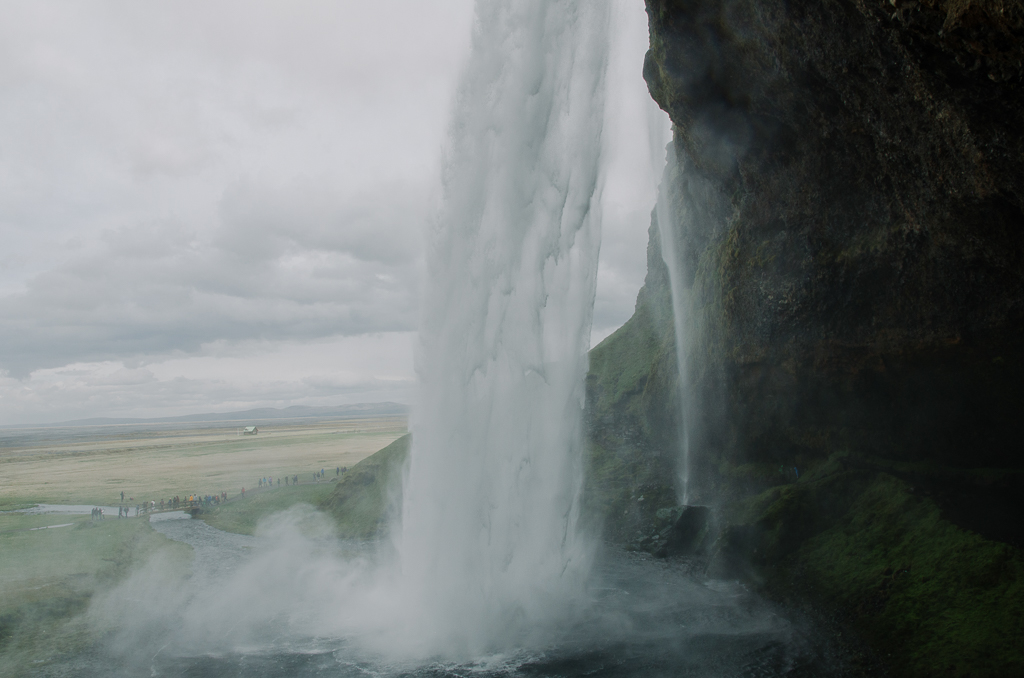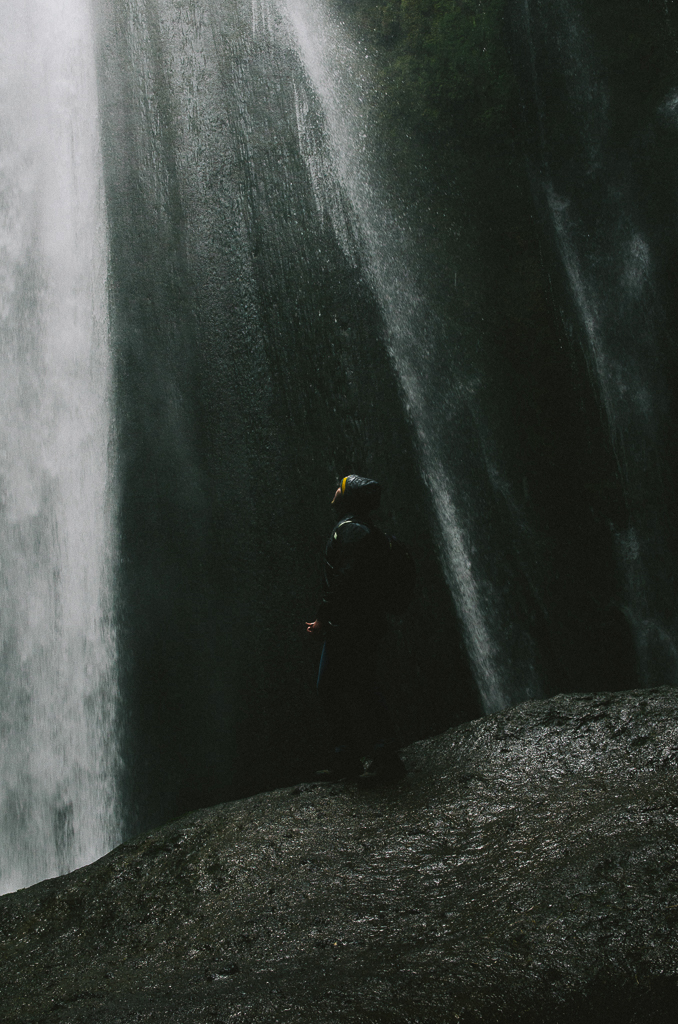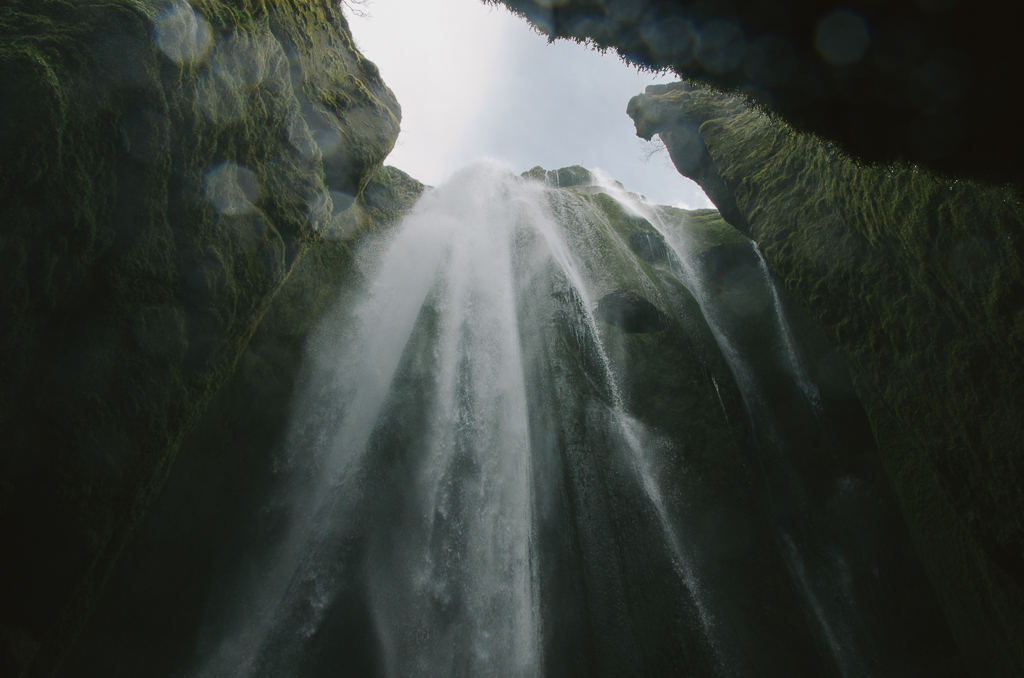 Seljavallalaug Pool
After a 15-20 minute hike we arrived at Seljavallalaug which was built in 1923 and is one of the oldest public pools in Iceland. Today the pool is maintained by locals and volunteers. The water looked a little questionable but we didn't hike all that way to not go for a swim.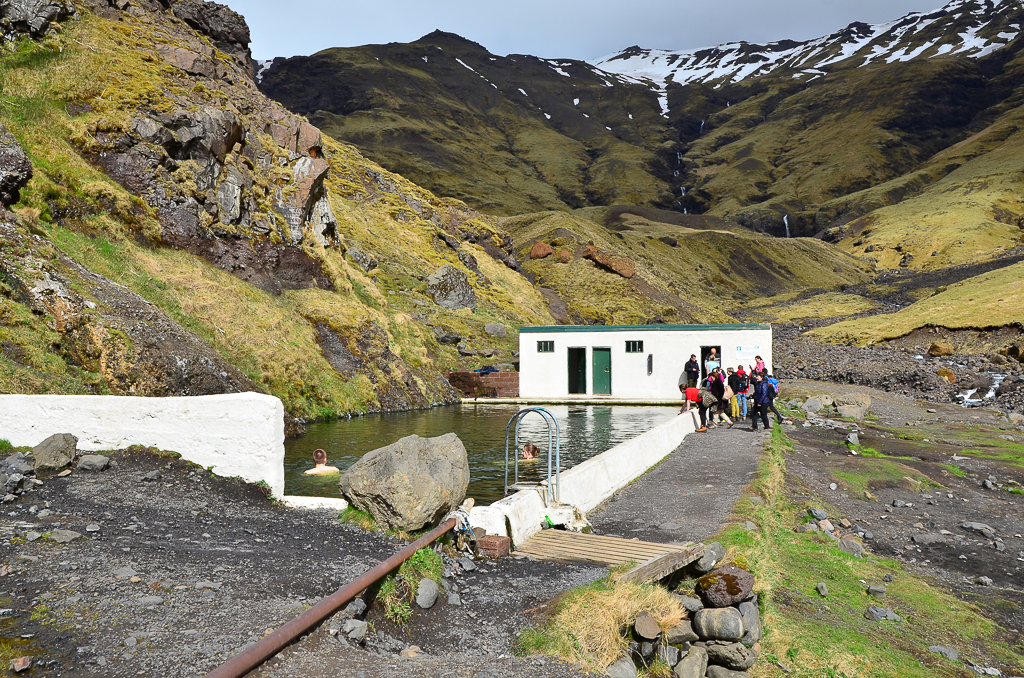 Skógafoss
Skógafoss was easily one of my favorite waterfalls that we were able to visit. I'd really recommend getting as close to the falls as possible and hear how deafening it is. There is also a hiking trail located behind and above the waterfall but unfortunately we were pressed for time to go much further.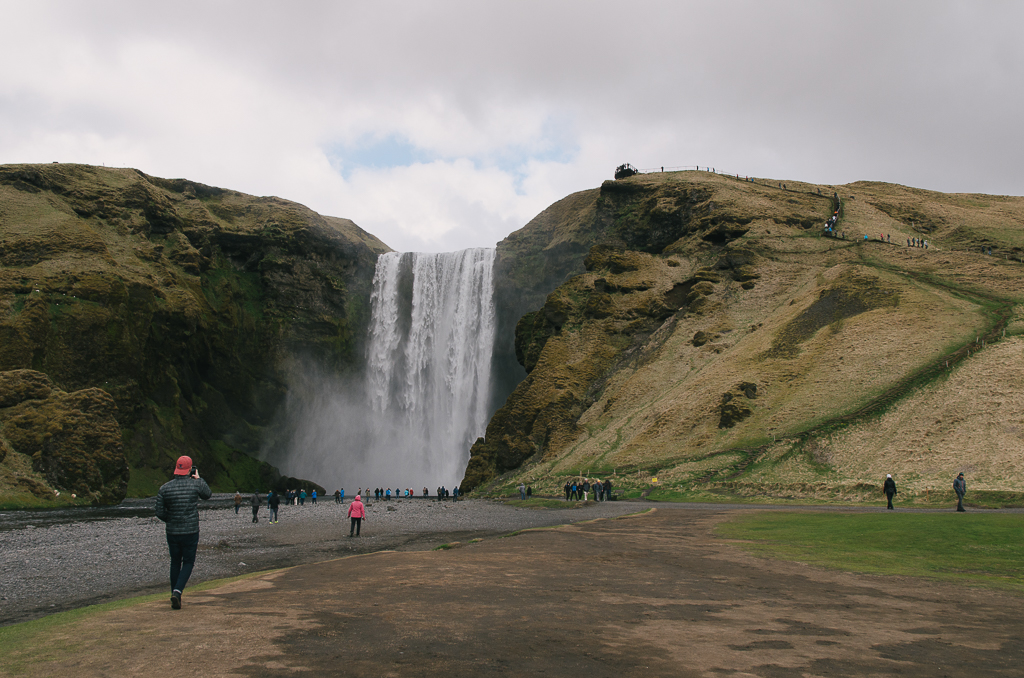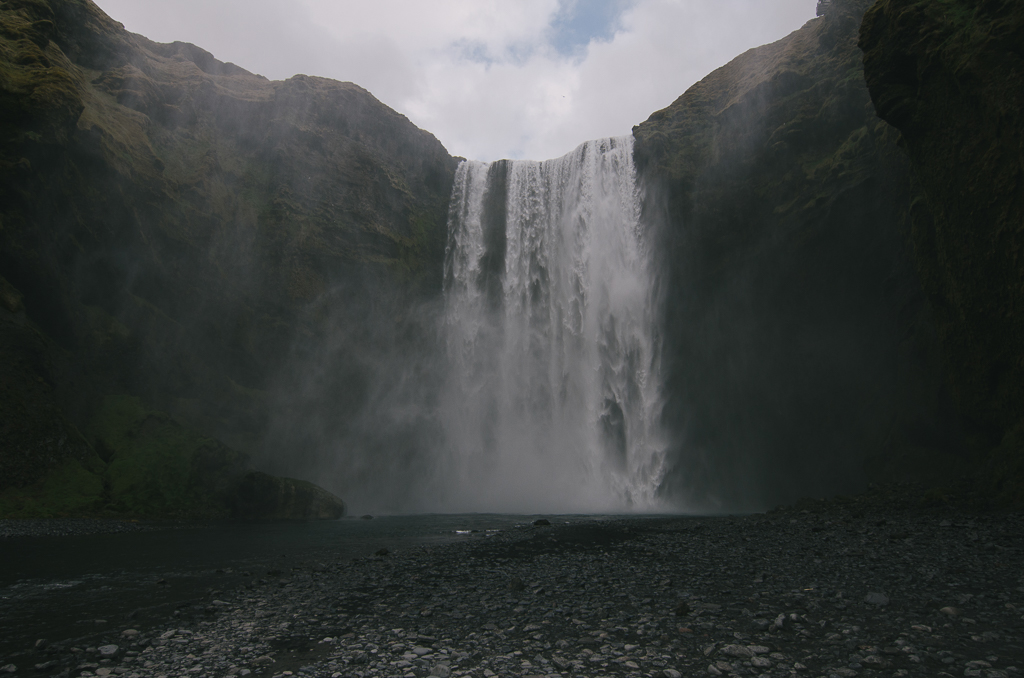 Dyrhólaey
Located on a small cliff/peninsula near Vík. The views here were spectacular and the rainy weather allowed me to produce some of my favorite pictures from my trip. Seeing the contrast of black sand beach meet the ocean was unforgettable.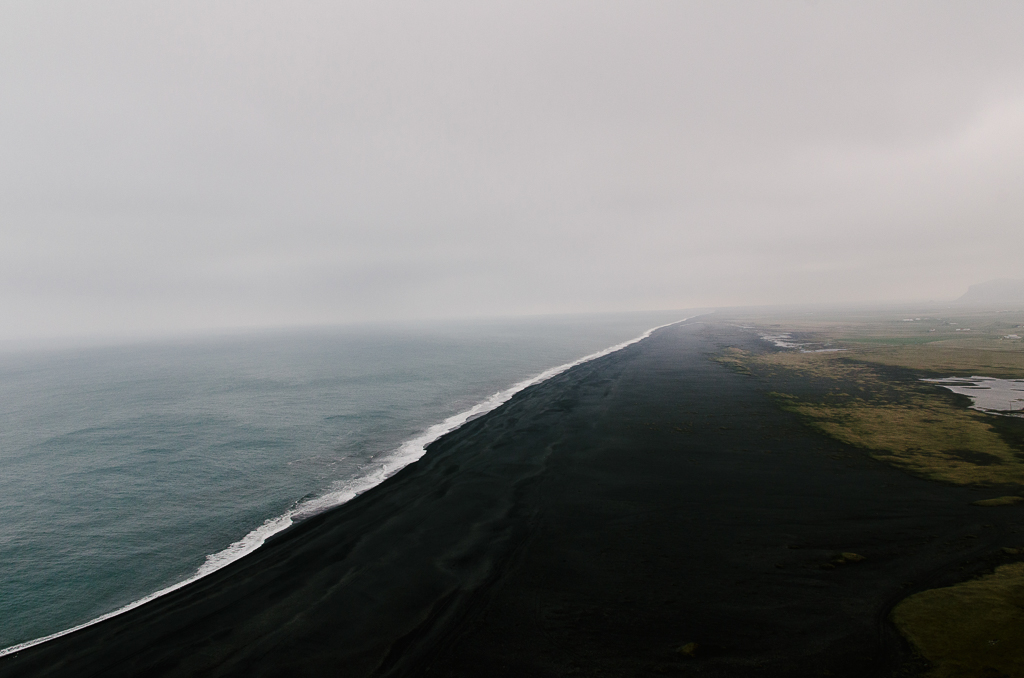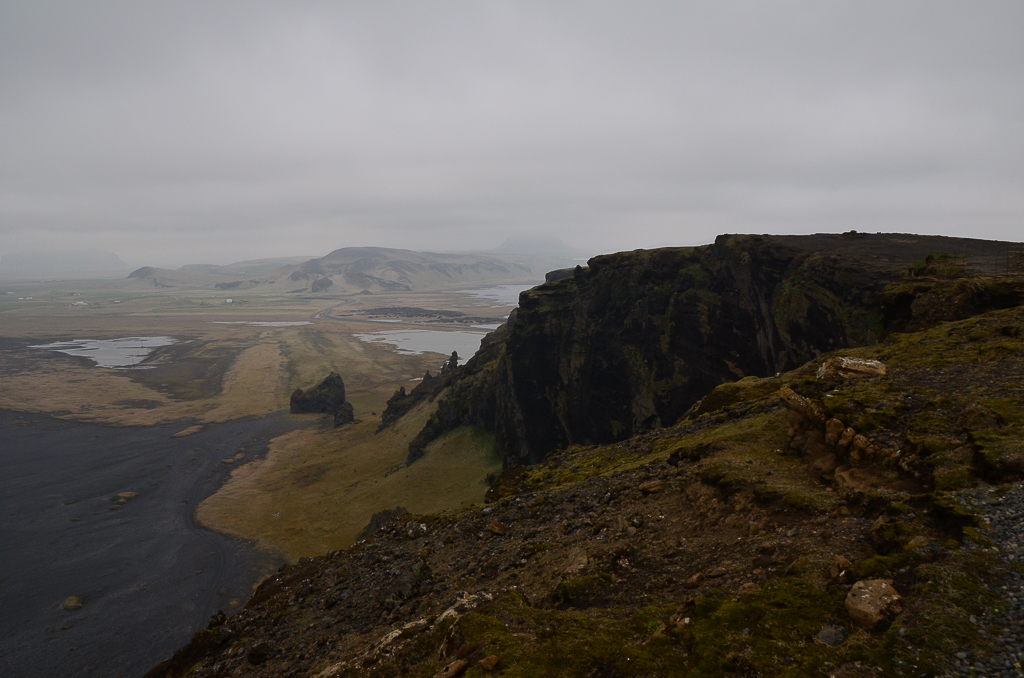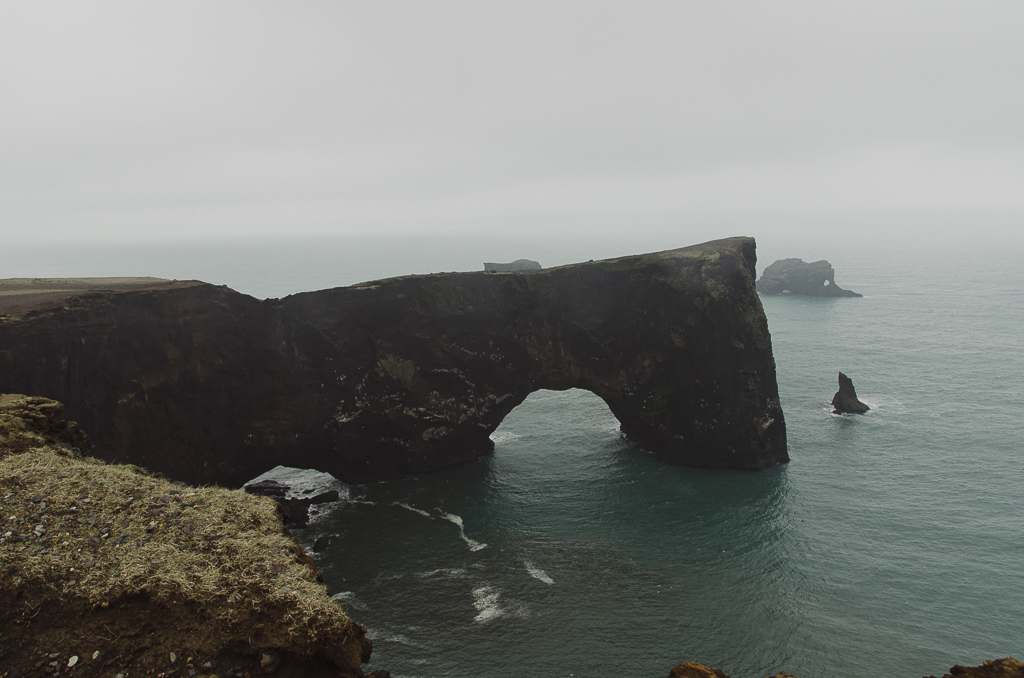 Day 2 – Vík → Höfn
We spent our first night in Vik, Iceland's southern most village with a population of approximately 300 people. This is a view not too far from our cottage. In the distance, you can see our next destination Reynisfjara. In town I would recommend checking out the Vikurprjon Wool Factory.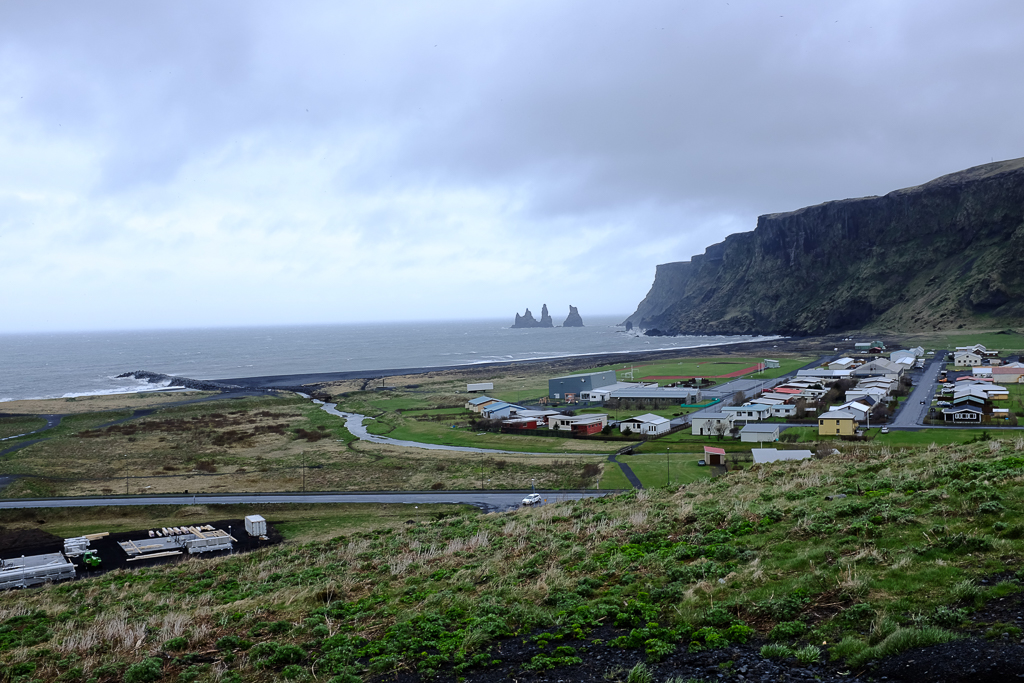 Reynisfjara – Black Sand Beach
This was just a few minutes drive from Vík and is famous for its basalt rock formations. You'll likely see pictures of this beach from those who have the opportunity to visit due to its closeness to the capital. This was definitely a highlight.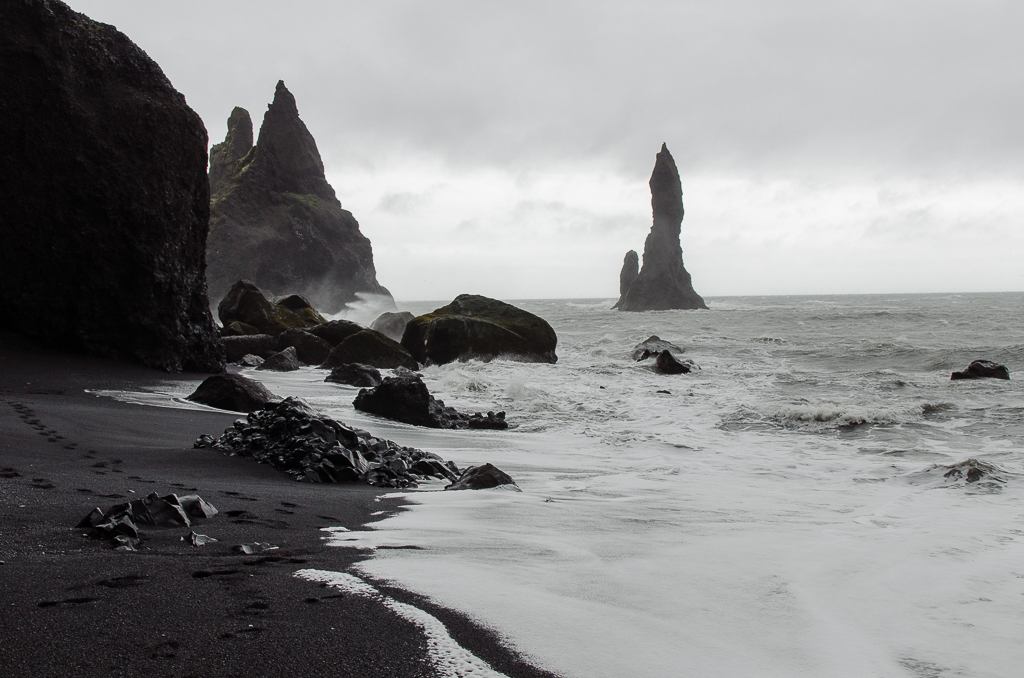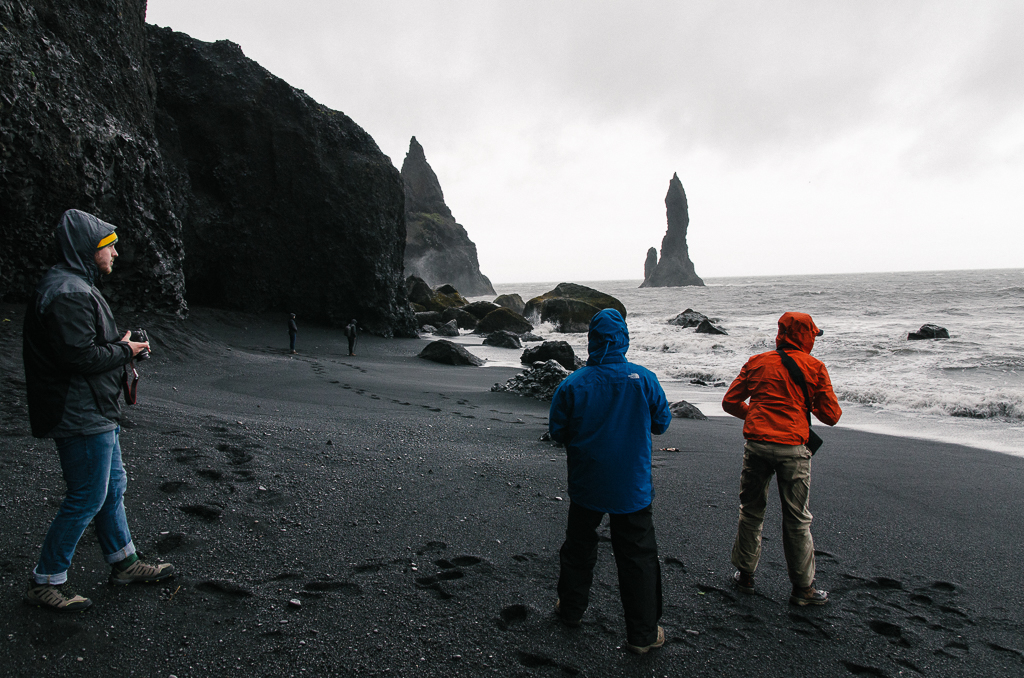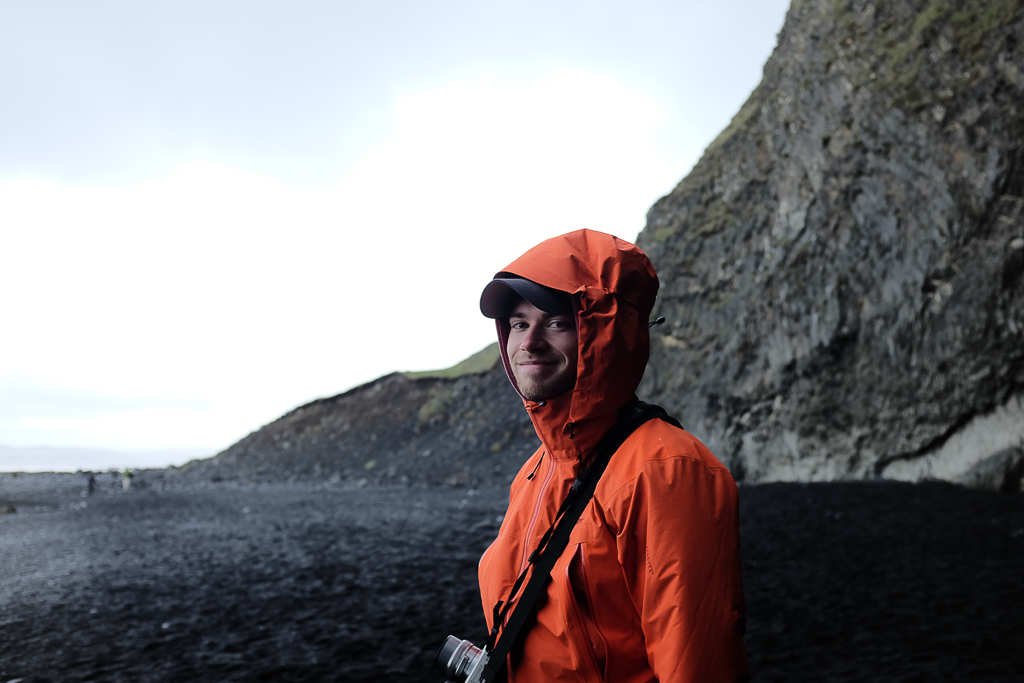 Fjaðrárgljúfur Canyon
The canyon made for some beautiful hiking and is approximately two kilometers along.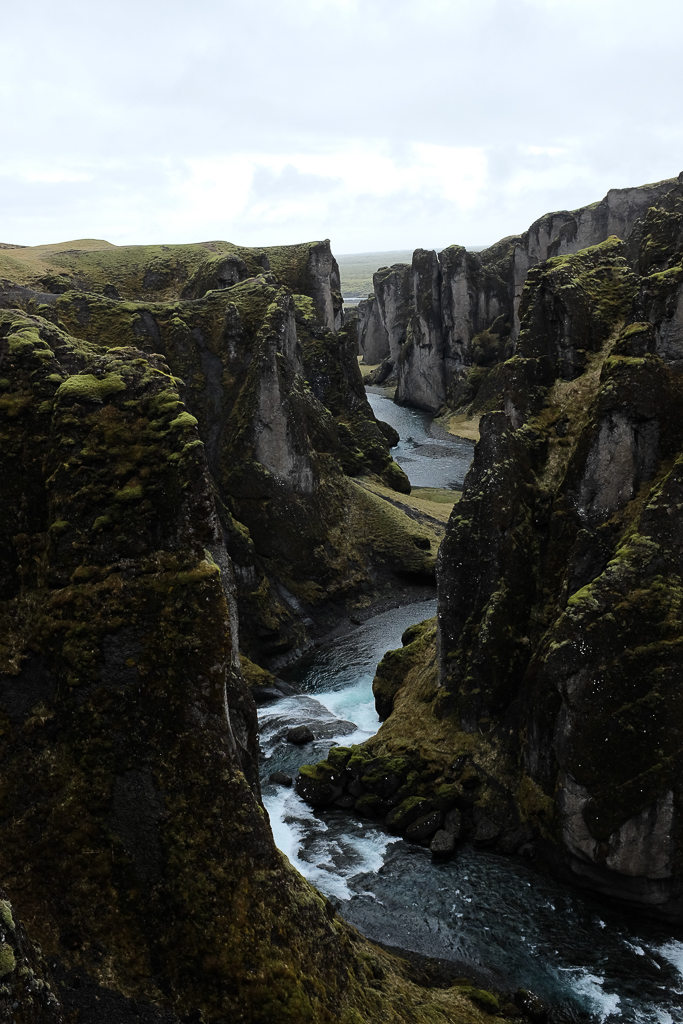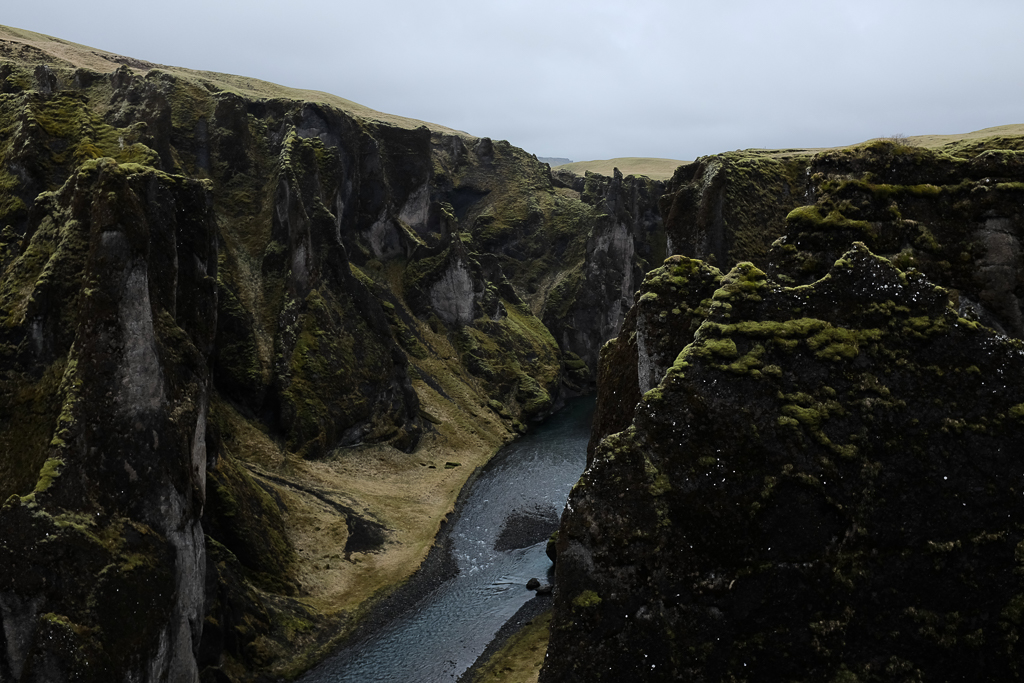 Vatnajökull National Park / Svartifoss / Skaftafellsjökull
The national park covers 13% of Iceland's total land area. We arrived at one of the visitor centers and made the short hike to Svartifoss. In doing so we also got some spectacular views of the Skaftafellsjökull Glacier but unfortunately we did not have time for a glacier hike. Maybe next time!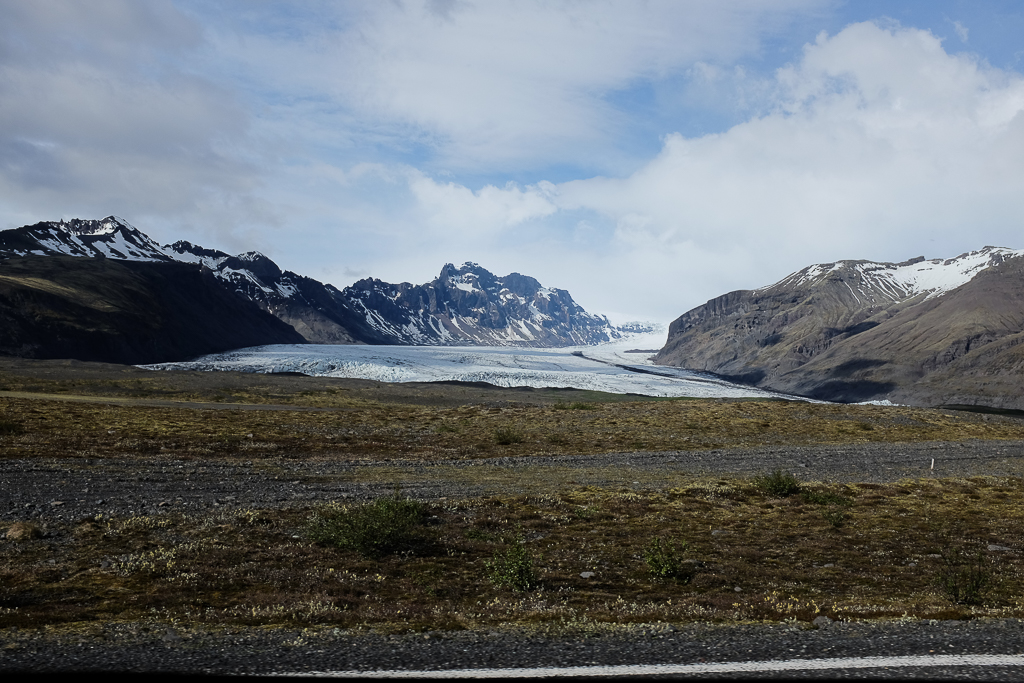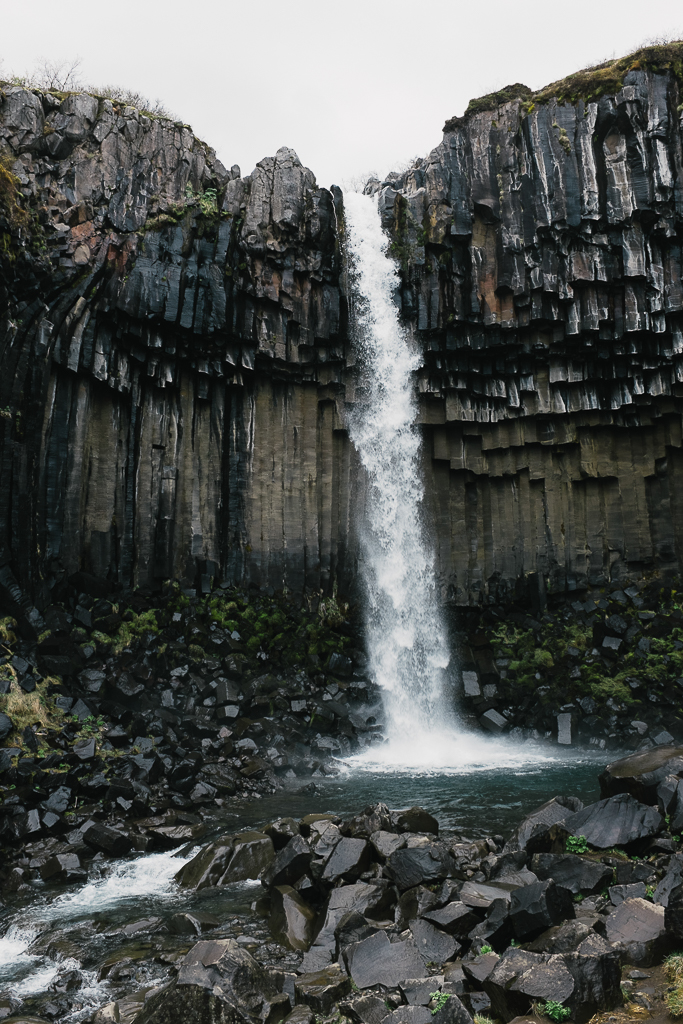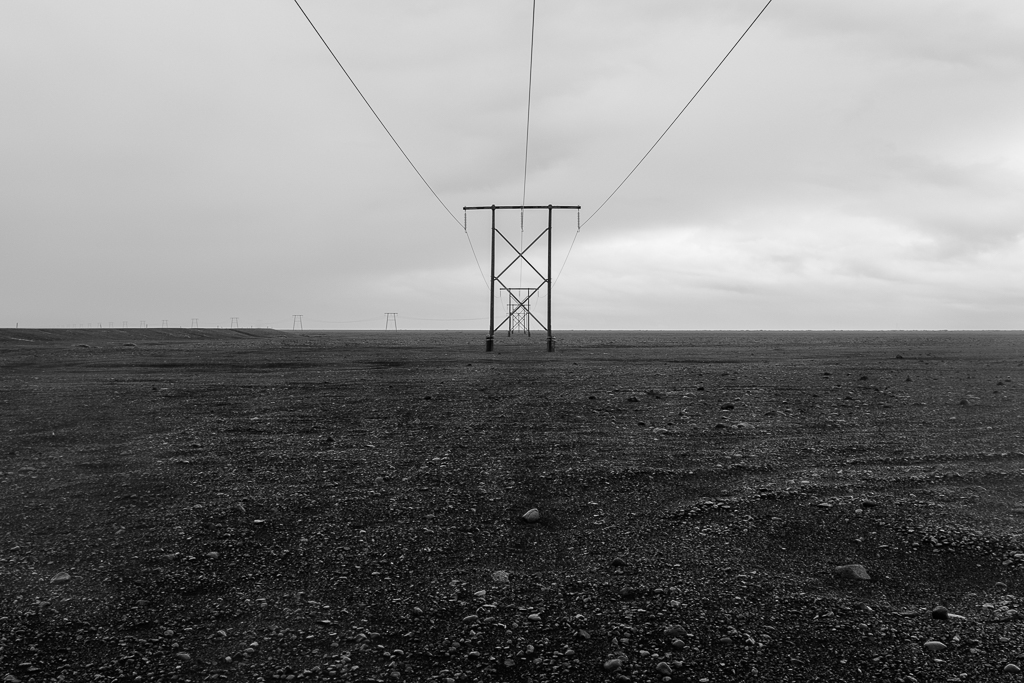 Jökulsárlón Glacial Lagoon
Jökulsárlón is a glacial lagoon that falls within the land area of Vatnajökull National Park. The lagoon flows into the Atlantic Ocean, leaving small chunks of ice on and around the beach. Because the glacier that feeds the lagoon is ever-melting, the sights here are different every day. I highly recomend also stopping at the nearby Fjallsárlón Glacial Lagoon which can be seen in the first picture below.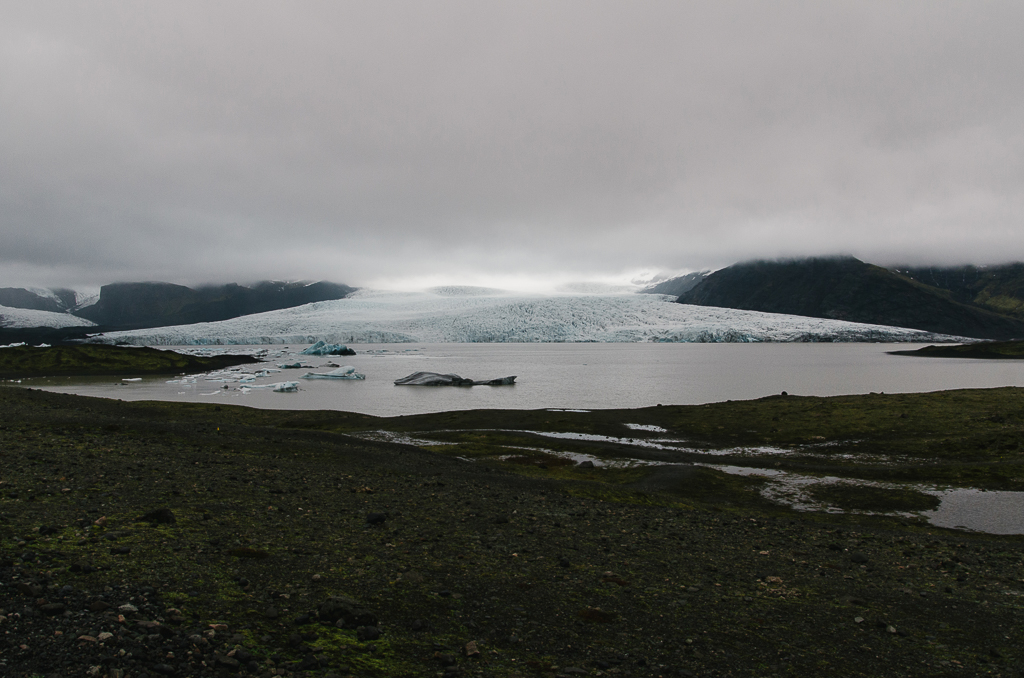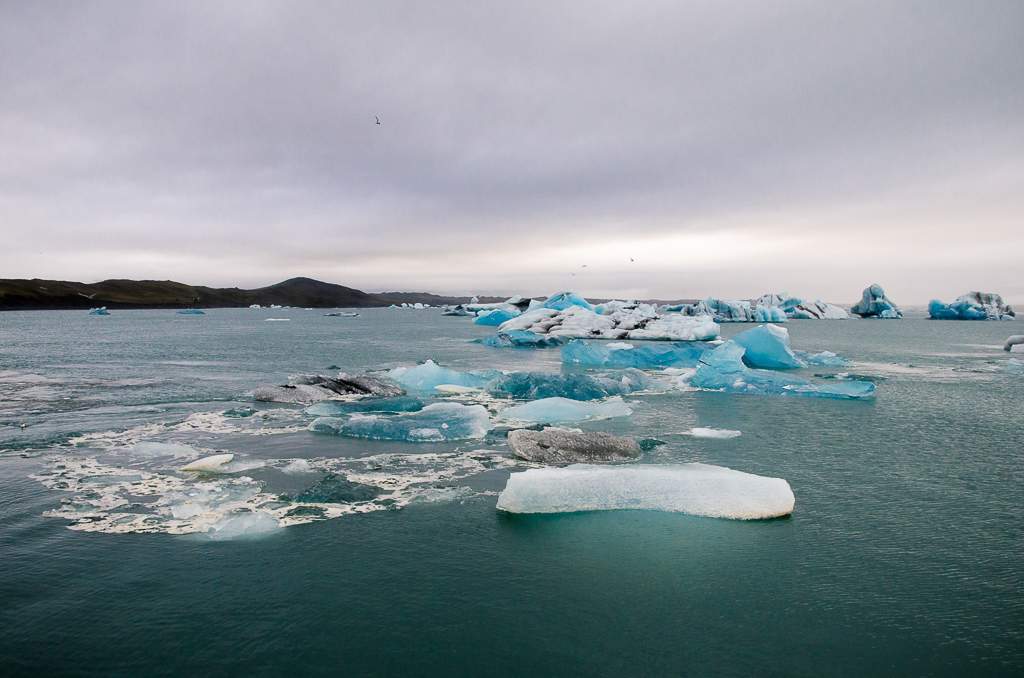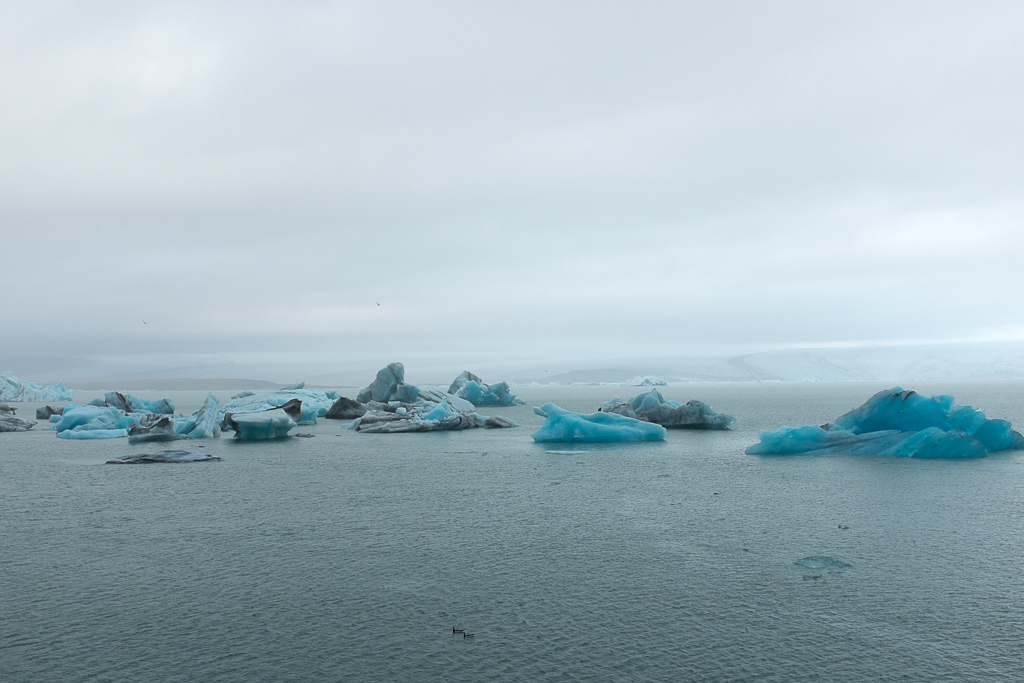 Day 3  – Höfn → Seyðisfjörður
Day three presented us with some of most scenic driving along the eastern coast of the island and into the Eastern Fjords.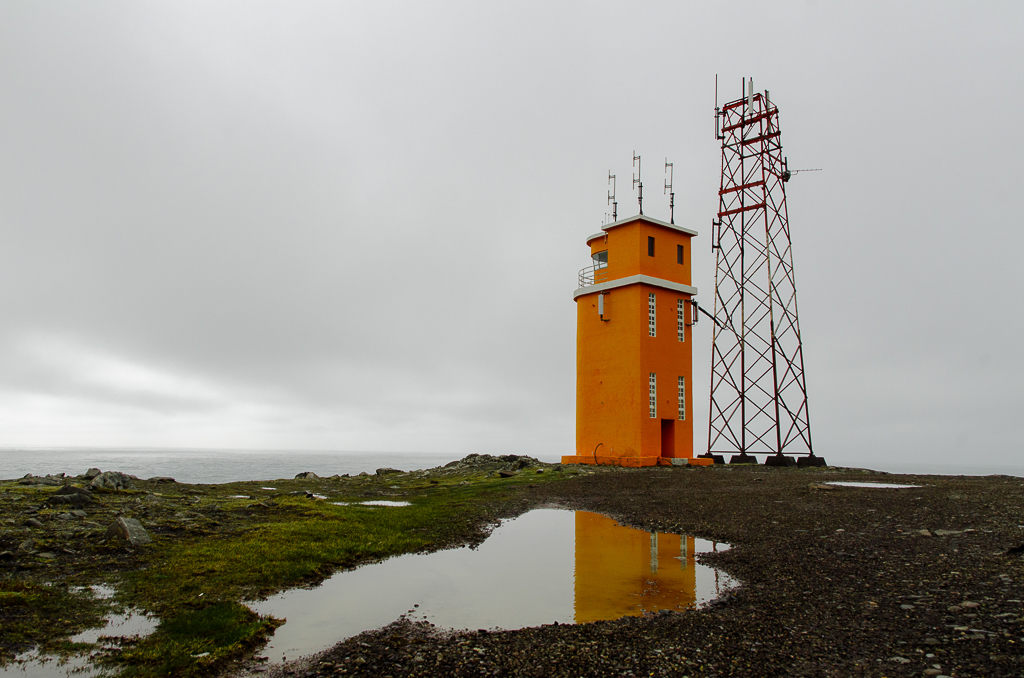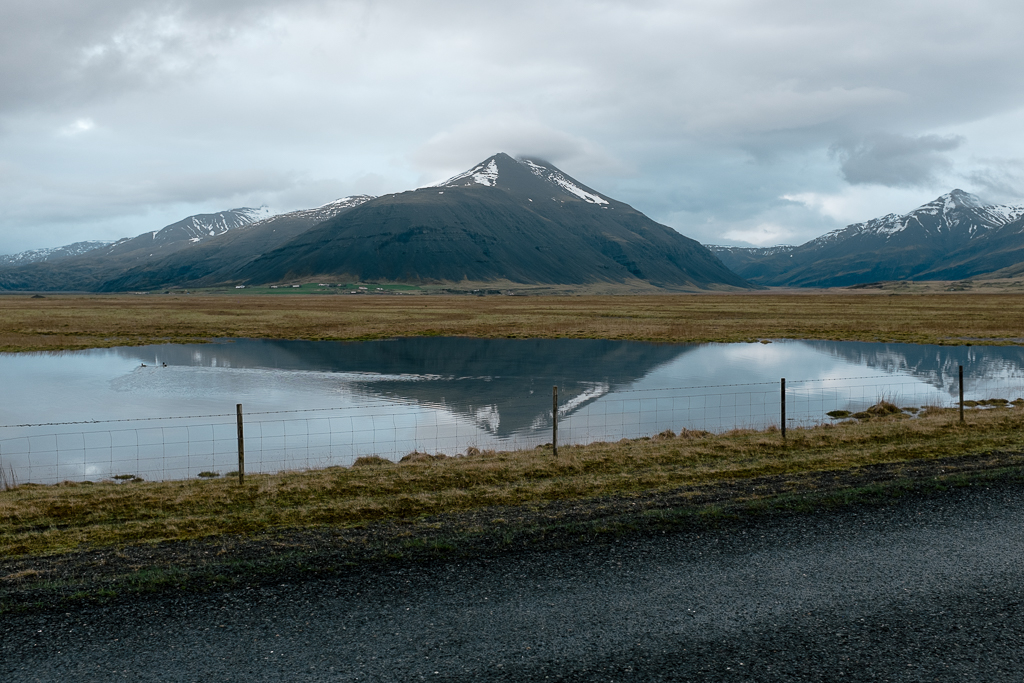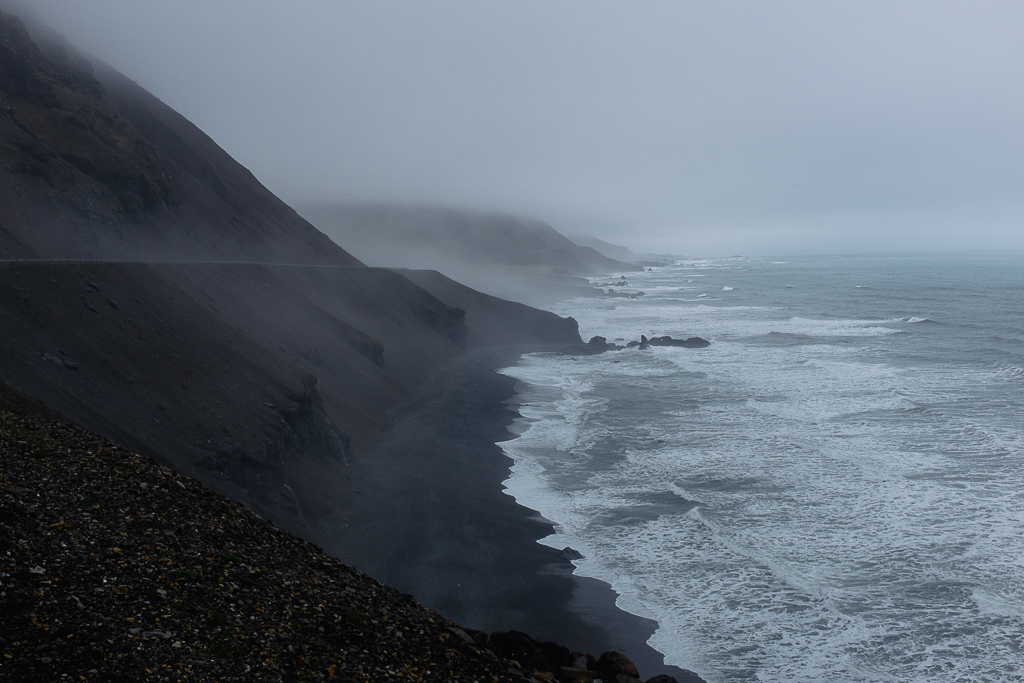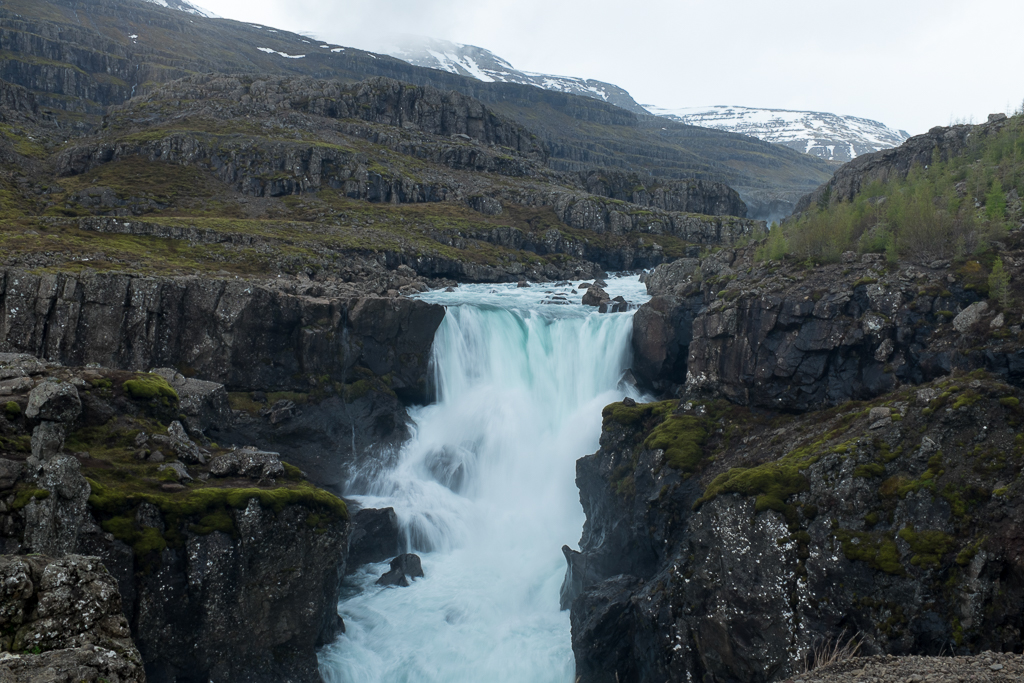 Stöðvarfjörður
We stopped for lunch in the tiny village of Stöðvarfjörður. The current population hovers at approximately 200 people and used to be predominately supported by the fishing industry which has started declining, leading to many of the younger people leaving the village. We also passed through the city of Fáskrúðsfjörður.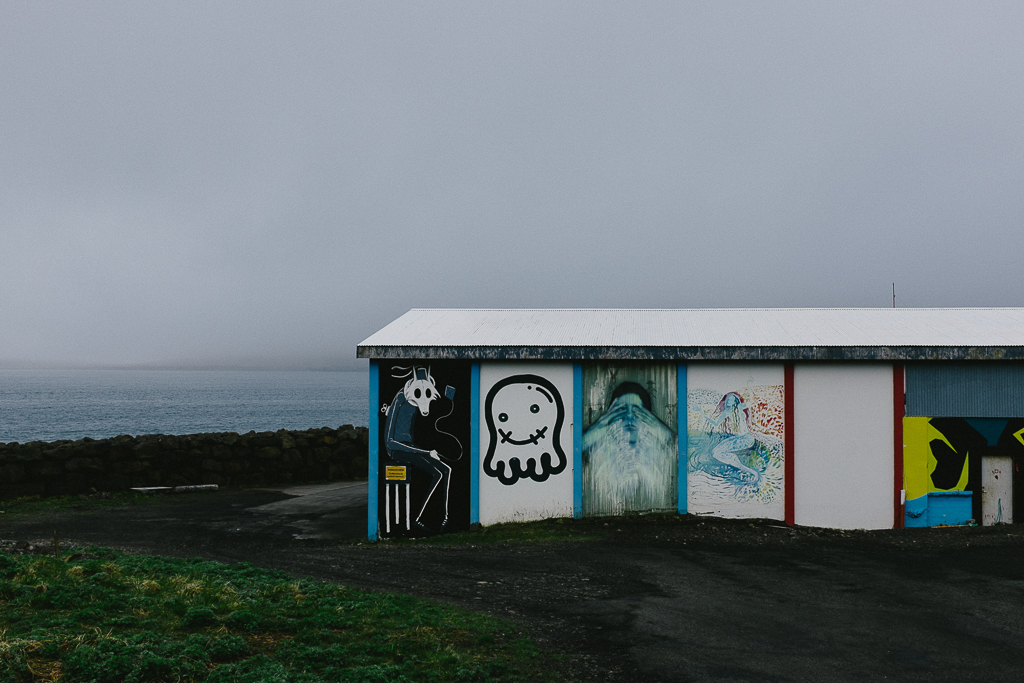 Seyðisfjörður
Seyðisfjörður was one of my absolute favorites from the trip. The town is surrounded by mountains which made for an interesting drive in as we had to make our way up and back down in order to enter via the main highway. The colorful buildings really stood out.
Here is where we had my favorite accommodations. We rented a cabin via AirBnB which overlooked the city from a distance. Something about watching the clouds roll in from over the mountains and across the town will be something that I will never forget. It sure didn't hurt to have done that from a hot tub with a case of beer either.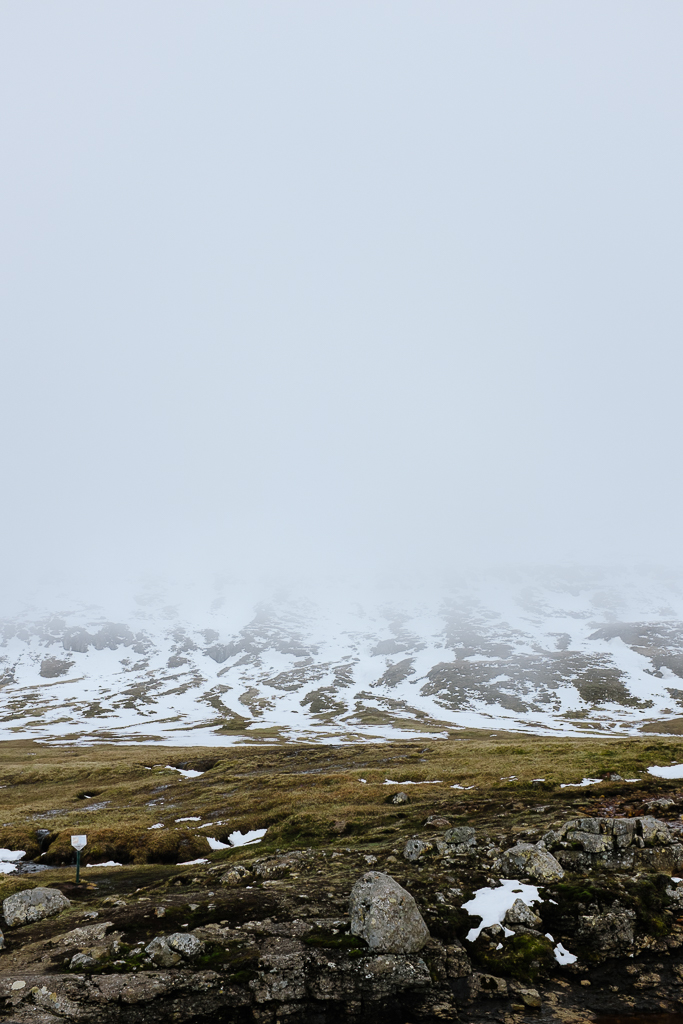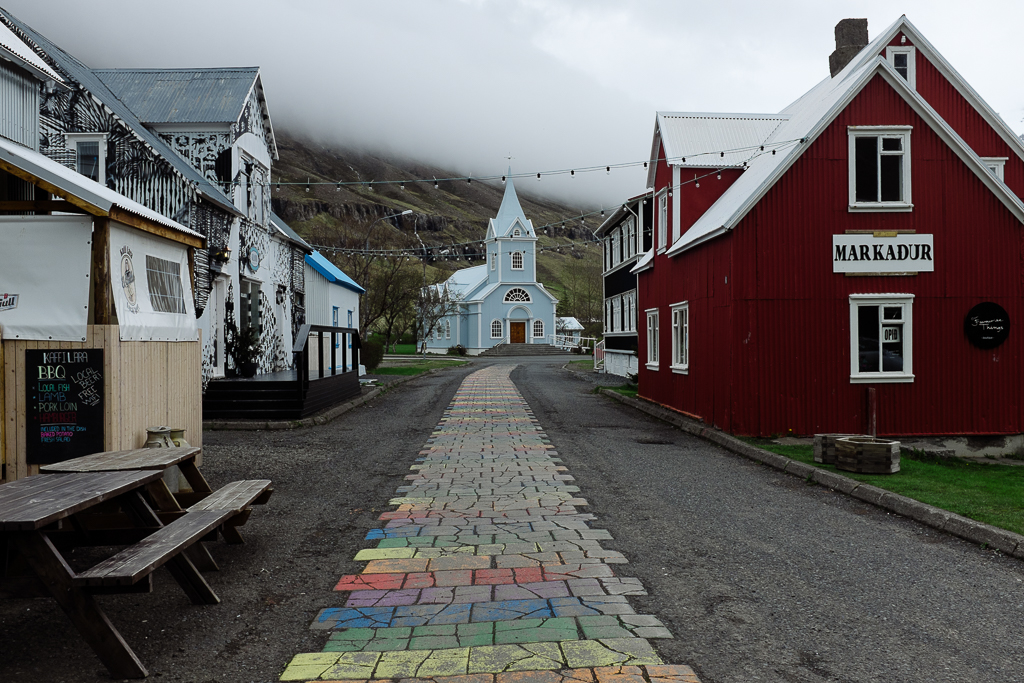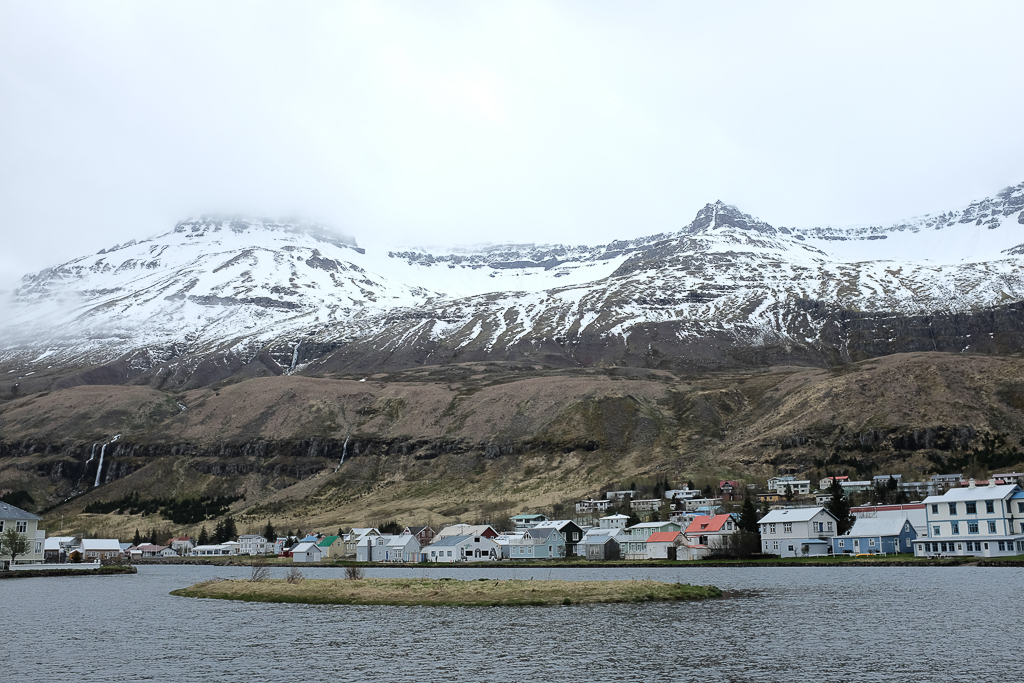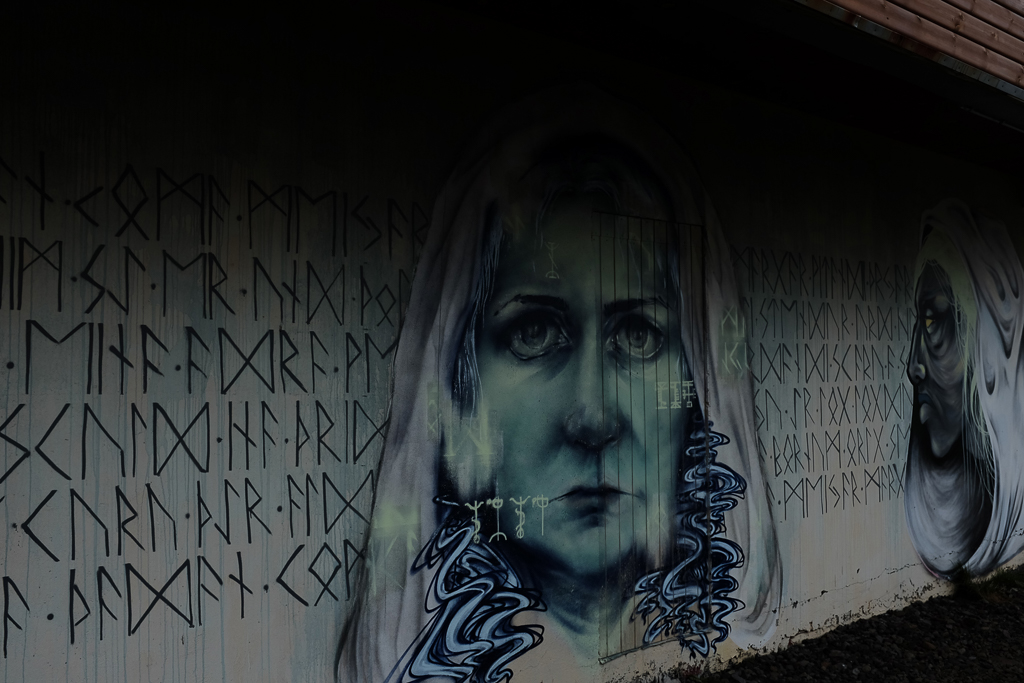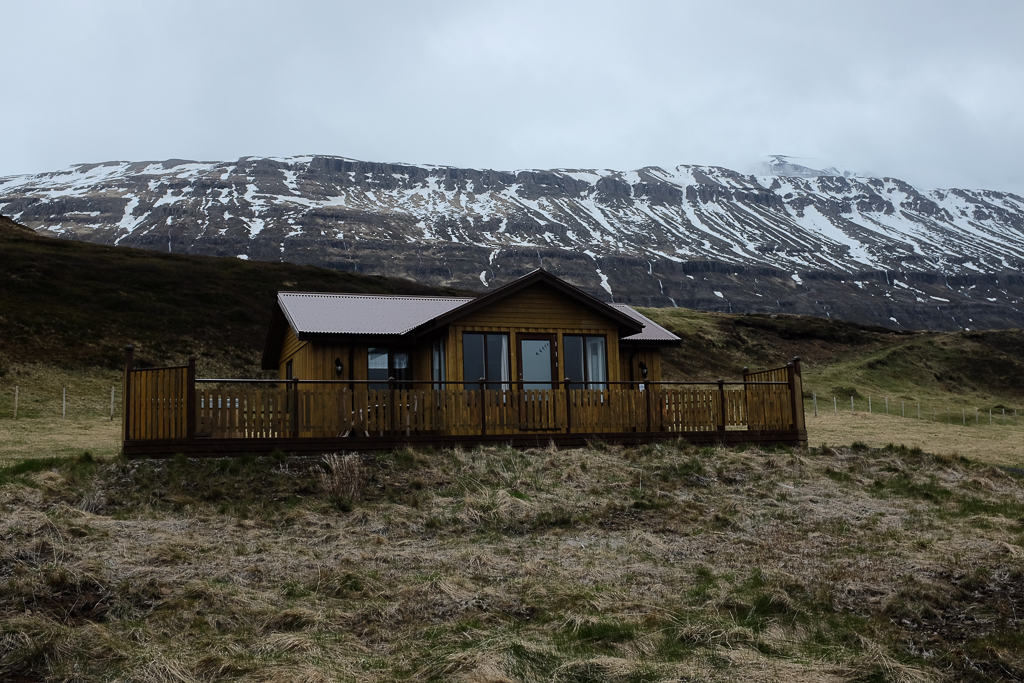 Day 4 – Seyðisfjörður → Mývatn
Dettifoss and Selfoss
These two waterfalls also fall within the land area of Vatnajökull National Park. Dettifoss by some is regarded as the most powerful waterfall in Europe. During our time here we were also fortunate enough to see a rainbow. The hiking trails that led down closer to the waterfall were closed due to weather.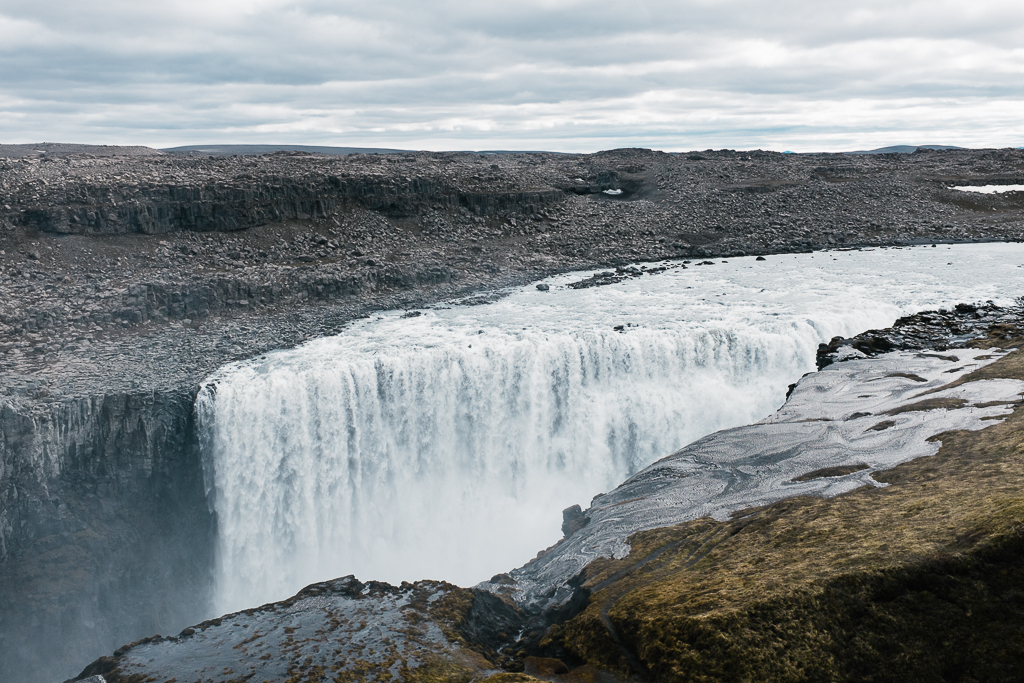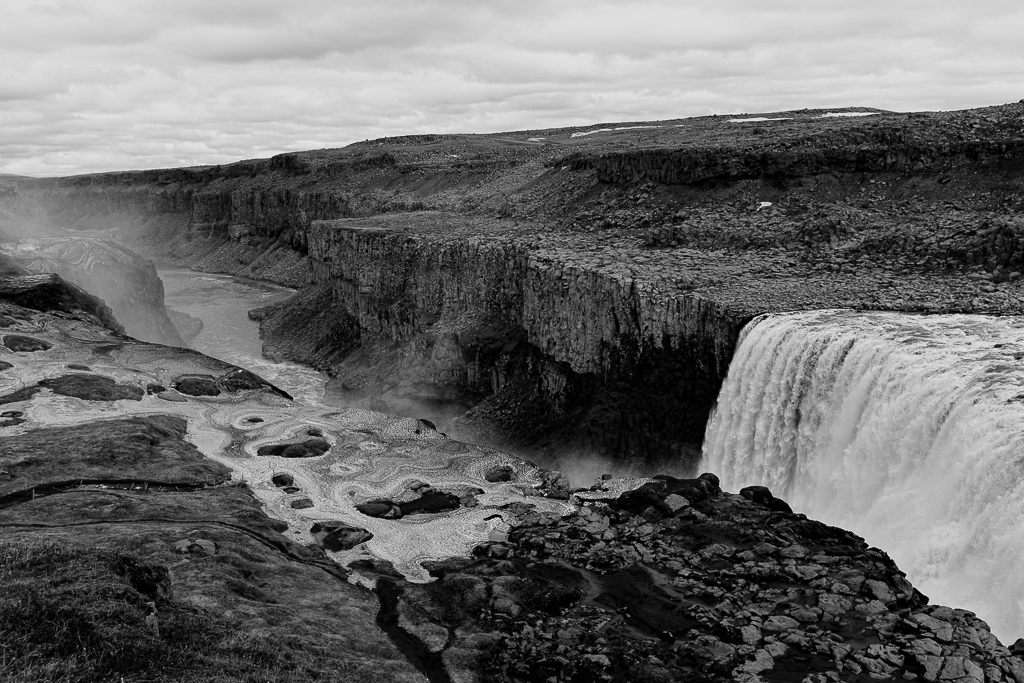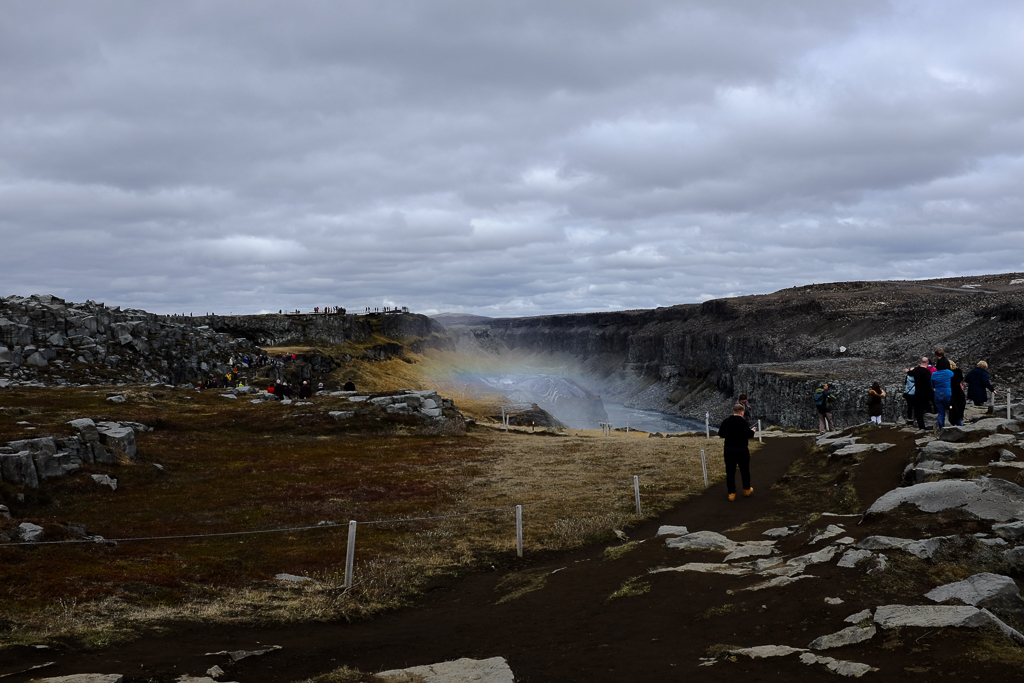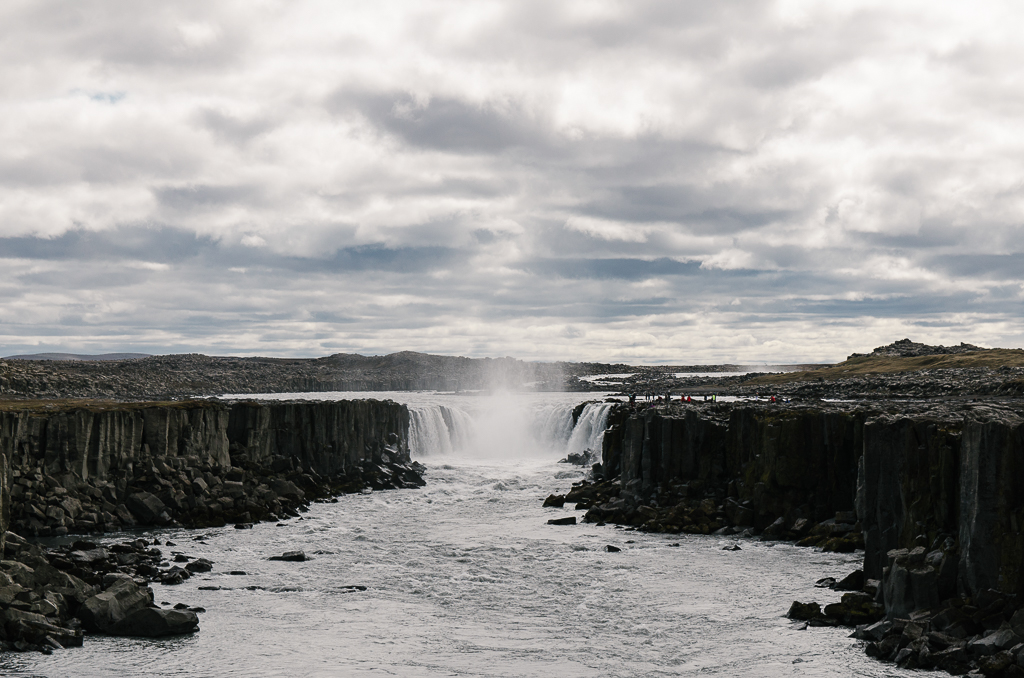 Hverir Geothermal Area
This location is made up of bubbling mud pools and stream vents. Although the landscape was mostly flat, we were met with with intriguing colors (and a terrible smell of sulfur). It almost looked like a different planet.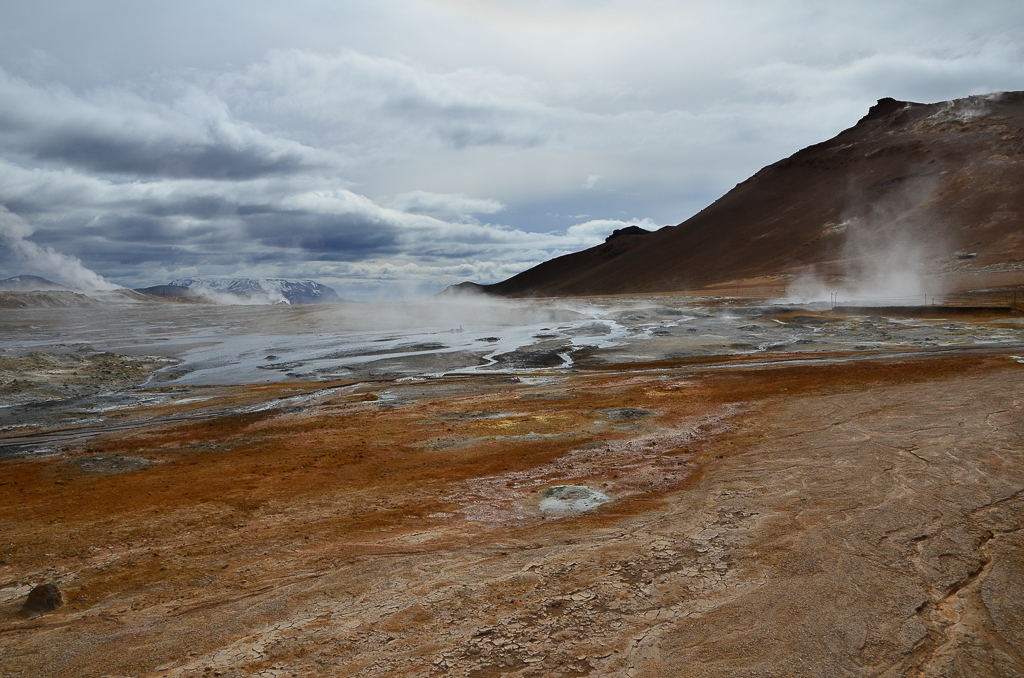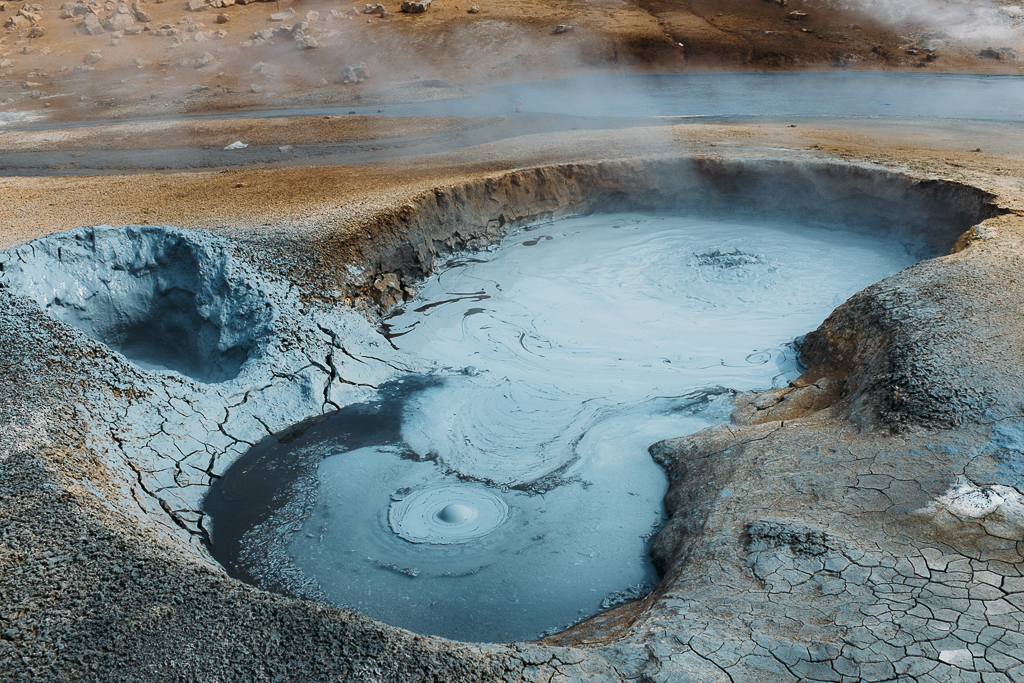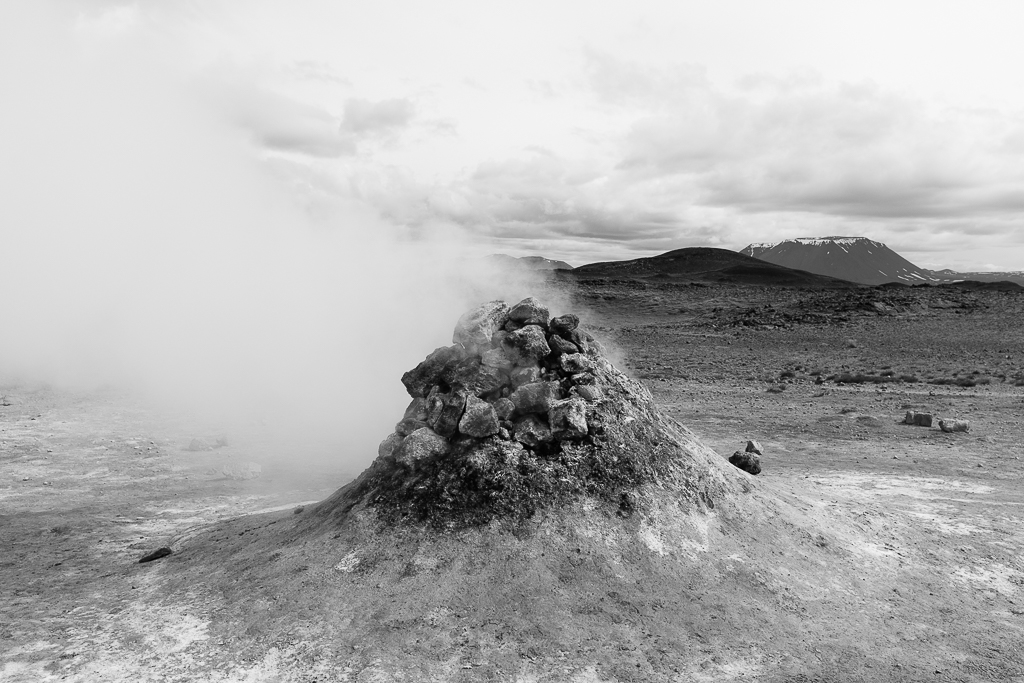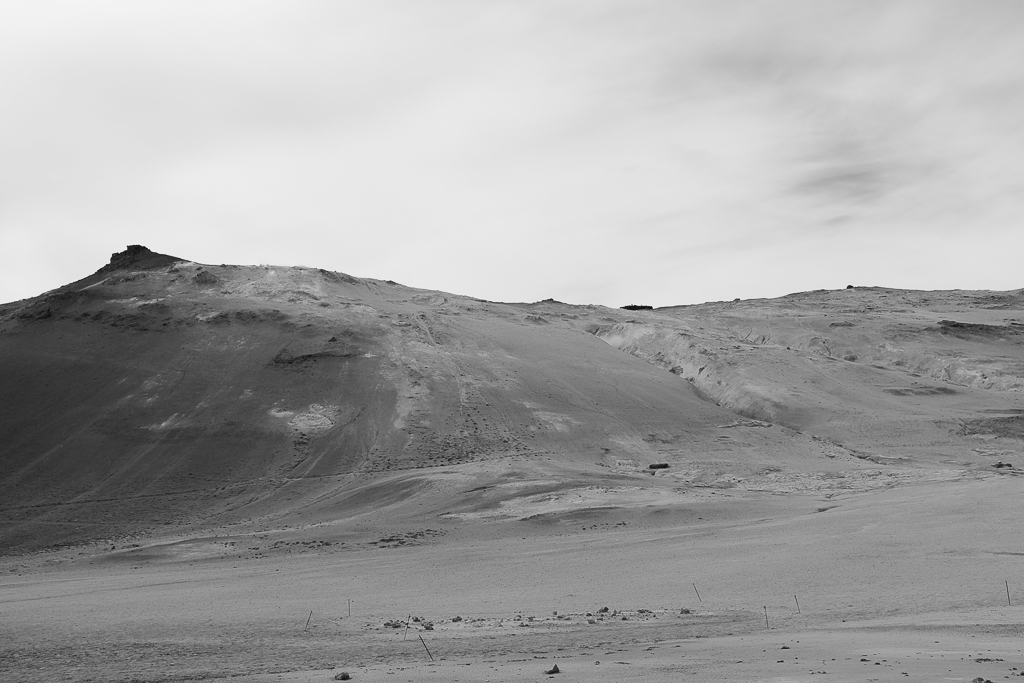 Krafla Geothermal Power Plant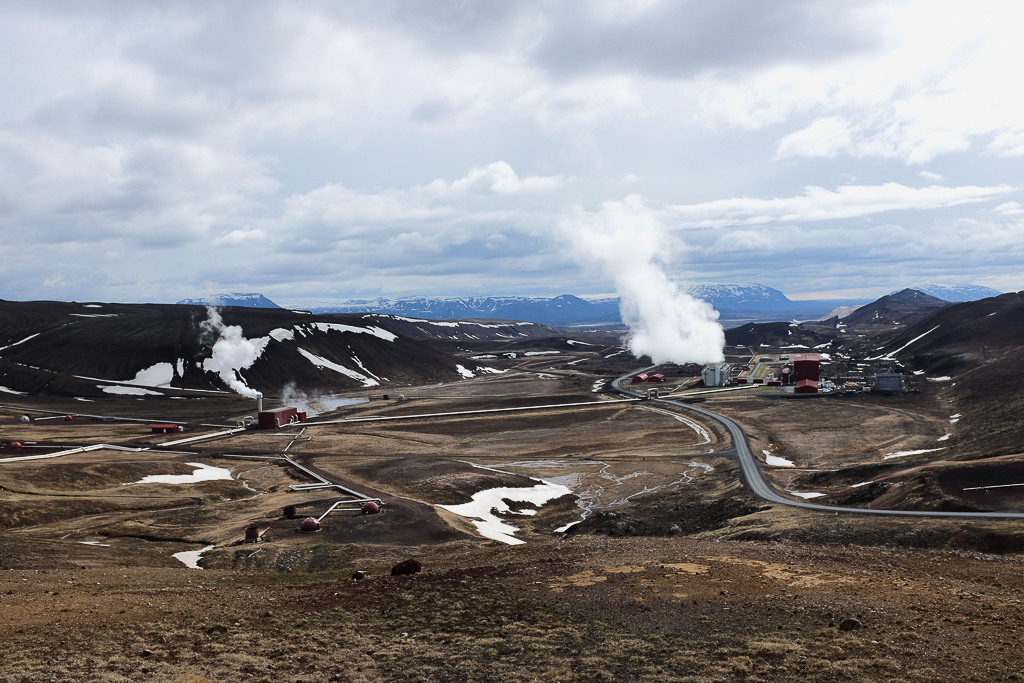 Viti Crater
The crater was formed in 1724 during an eruption of the local volcano that lasted more than five years. There was some good hiking and geothermal areas around the vicinity and was well worth the walk.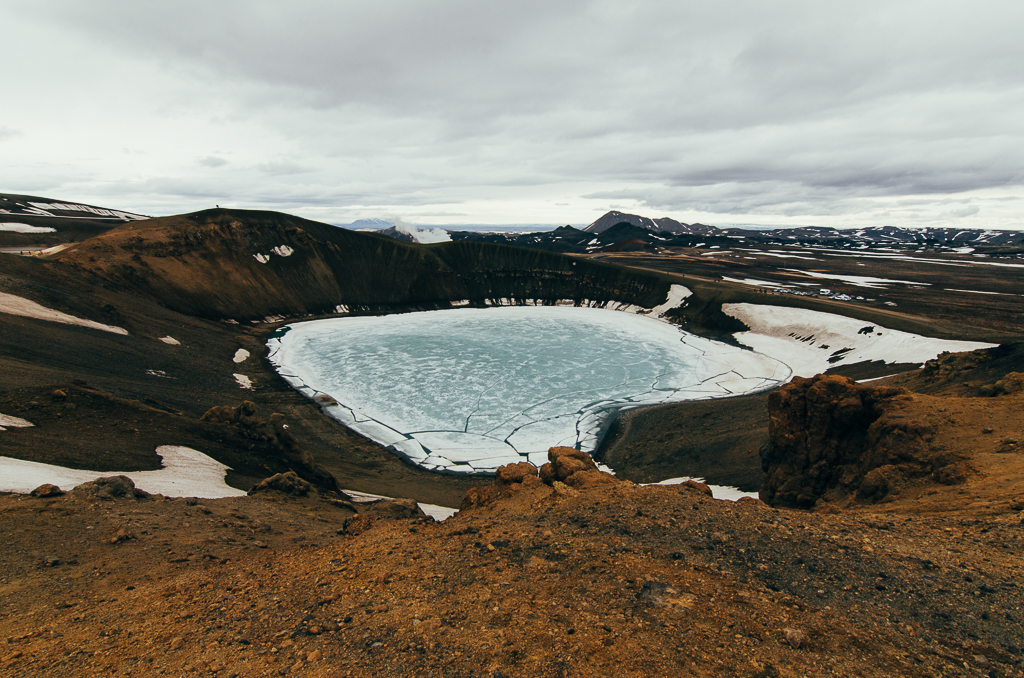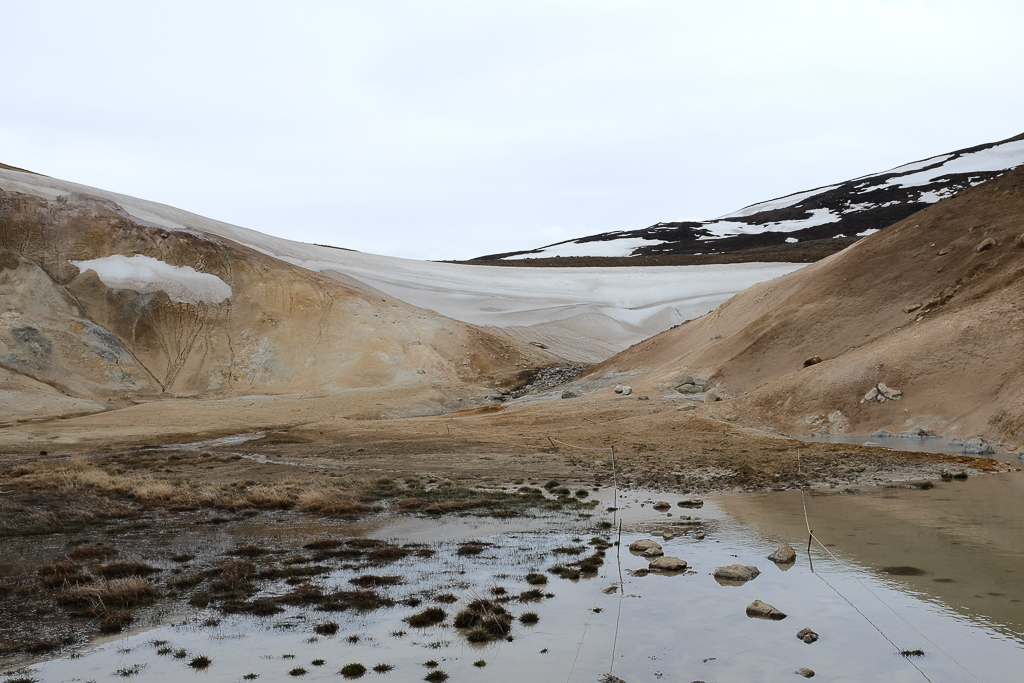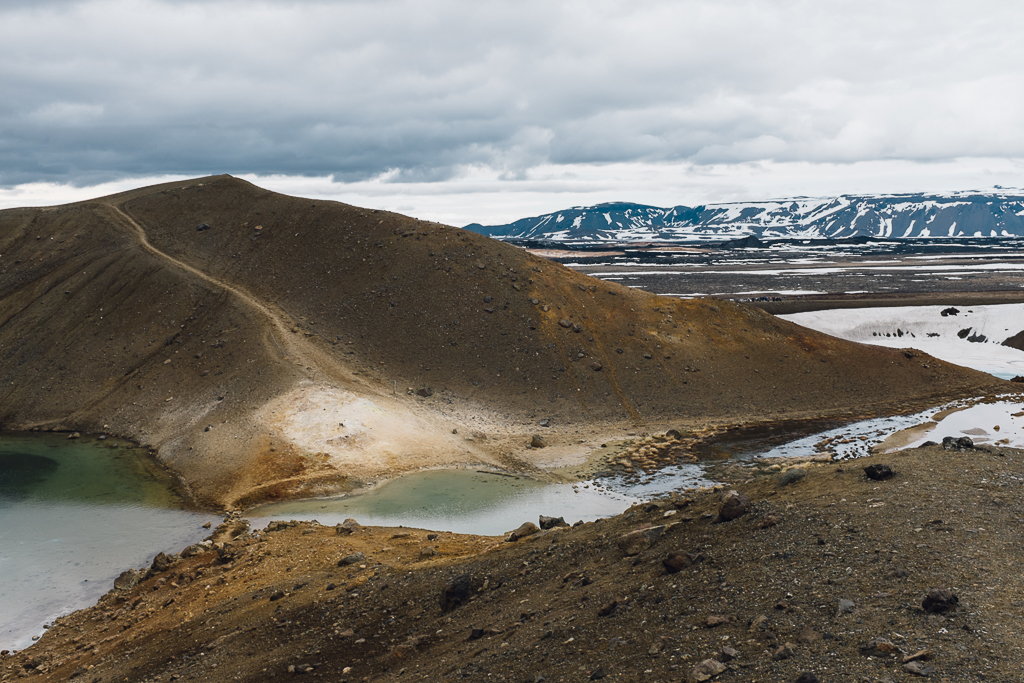 Mývatn Nature Baths
This man-made lagoon is filled with  water composing of various minerals. There were a few different pools of varying temperatures and it even had beer delivery service. For dinner I highly recommend checking out the nearby restaurant Vogafjós.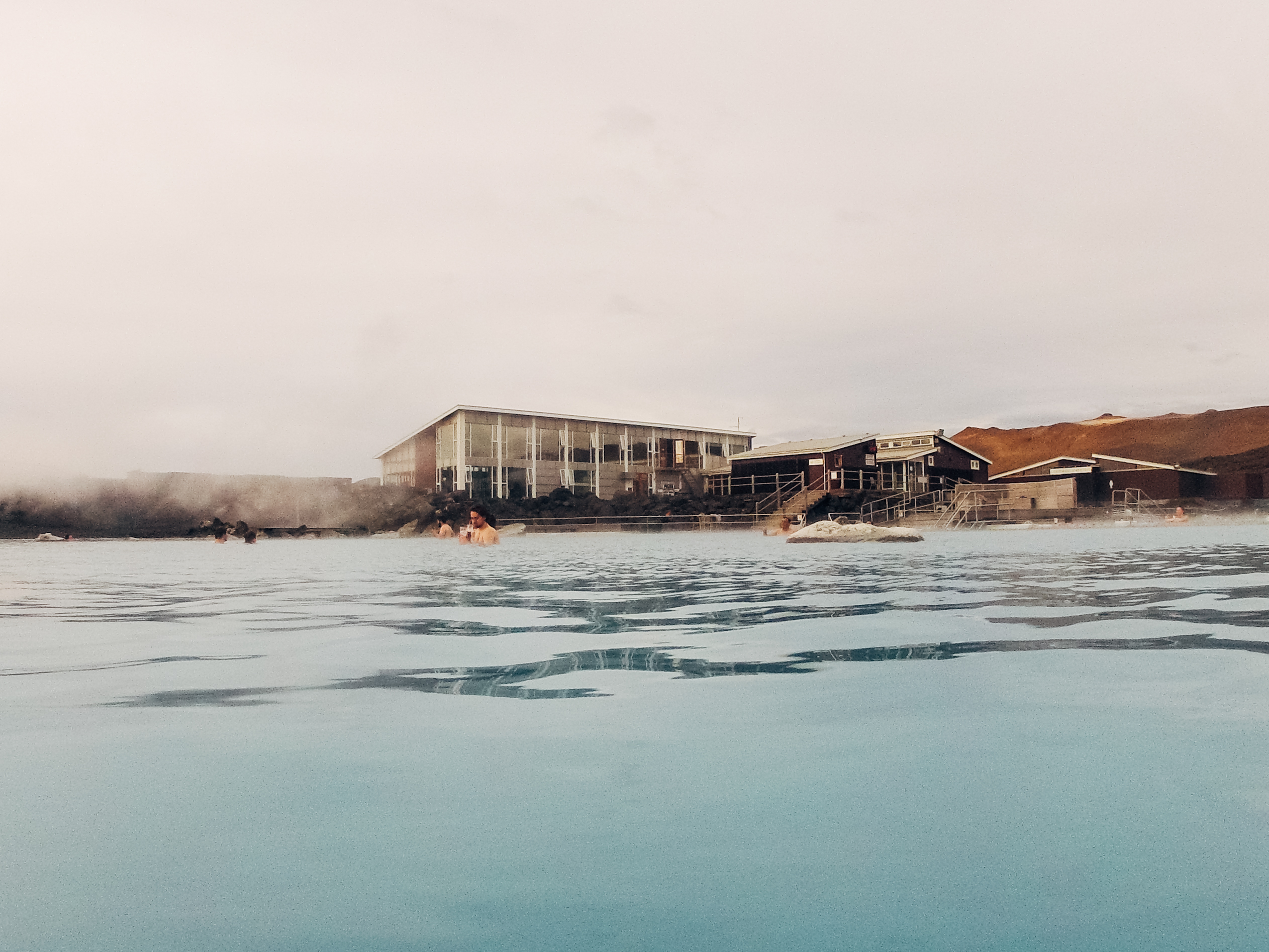 Day 5 -Mývatn →  Húnaver
Day five was a quiet day filled with lots of driving. We made a brief stop in Akureyri, Iceland's second largest city but we didn't stay too long and decided to spend the extra time taking the scenic route to our next destination. That decision resulted in a few hours of the most questionable driving experience I think that I'll ever have as we followed narrow roads (and one car tunnels!) along the cost surrounded by dense fog. Totally worth it.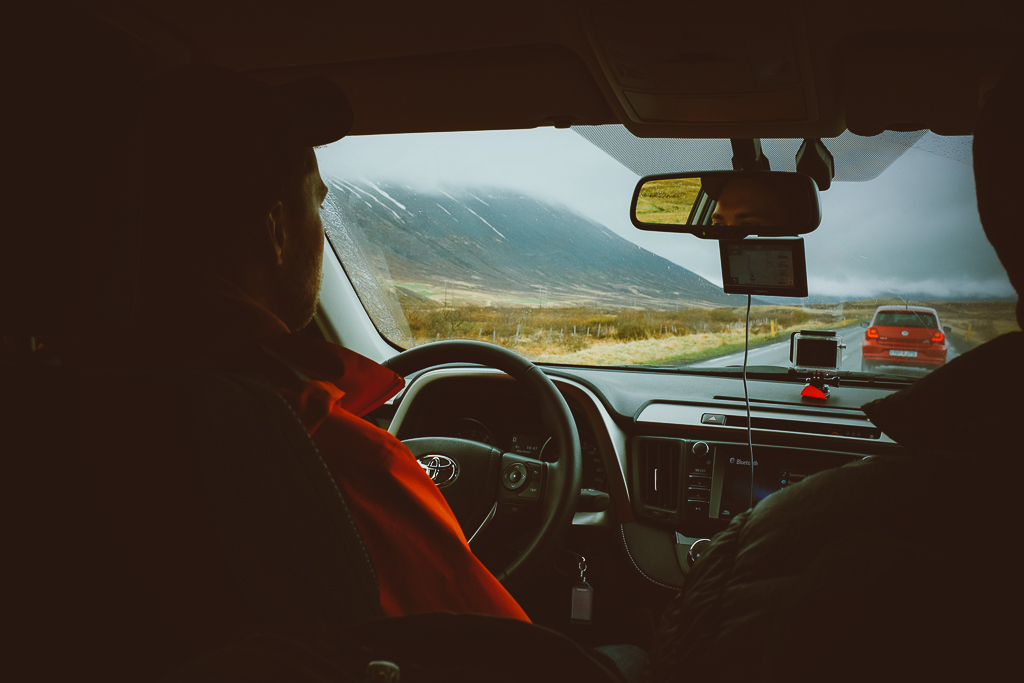 Goðafoss
Goðafoss was one of my favorites. Not only was the weather miserable and perfect (as far as picture taking goes), but there is some interesting backstory. Legend has it that after Þorgeir Ljósvetningagoði made Christianity the official religion of Iceland that the statues to the Norse gods were thrown into the waterfall.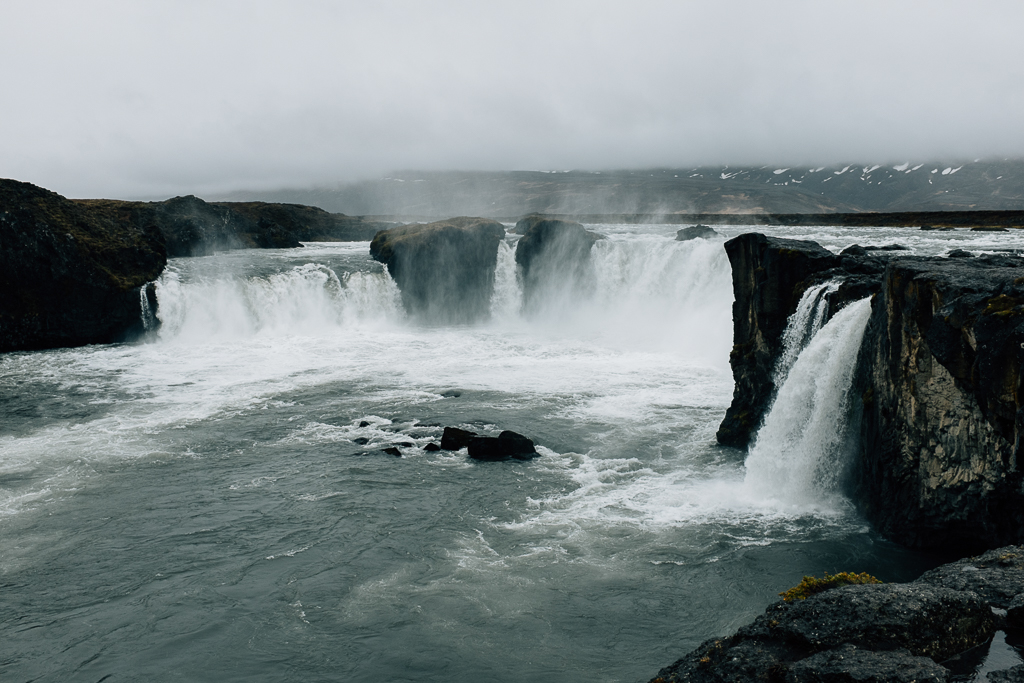 Laufás
On the drive we took a slight detour to visit some old traditional Iceland turf houses. There are historical references of settlements here back to 8th century.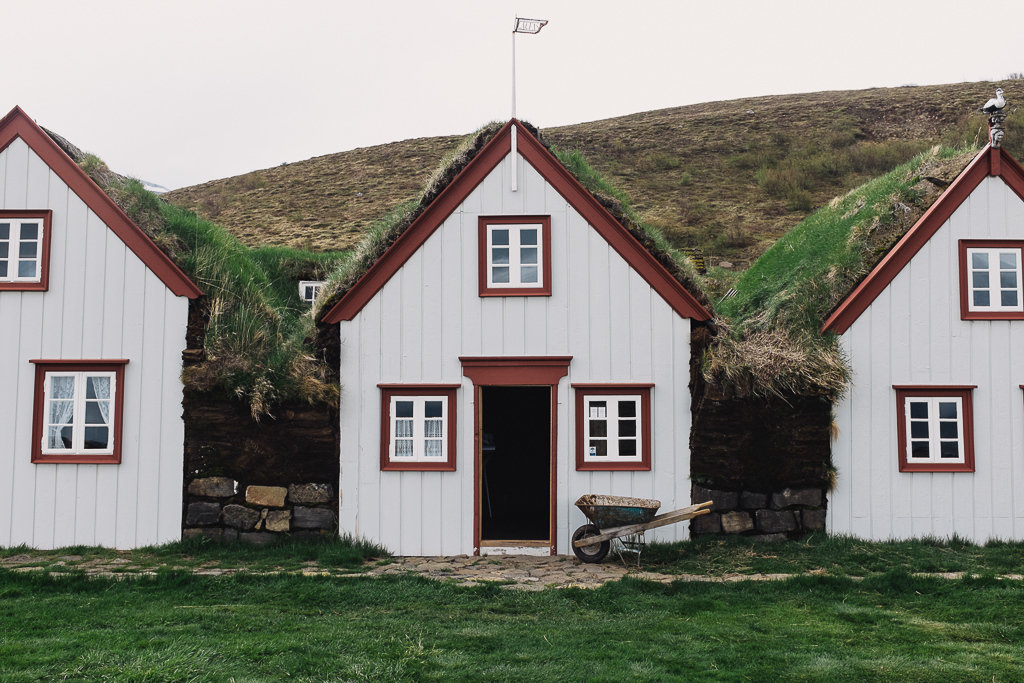 Day 6 – Húnaver → Grundarfjörður
Hvitserker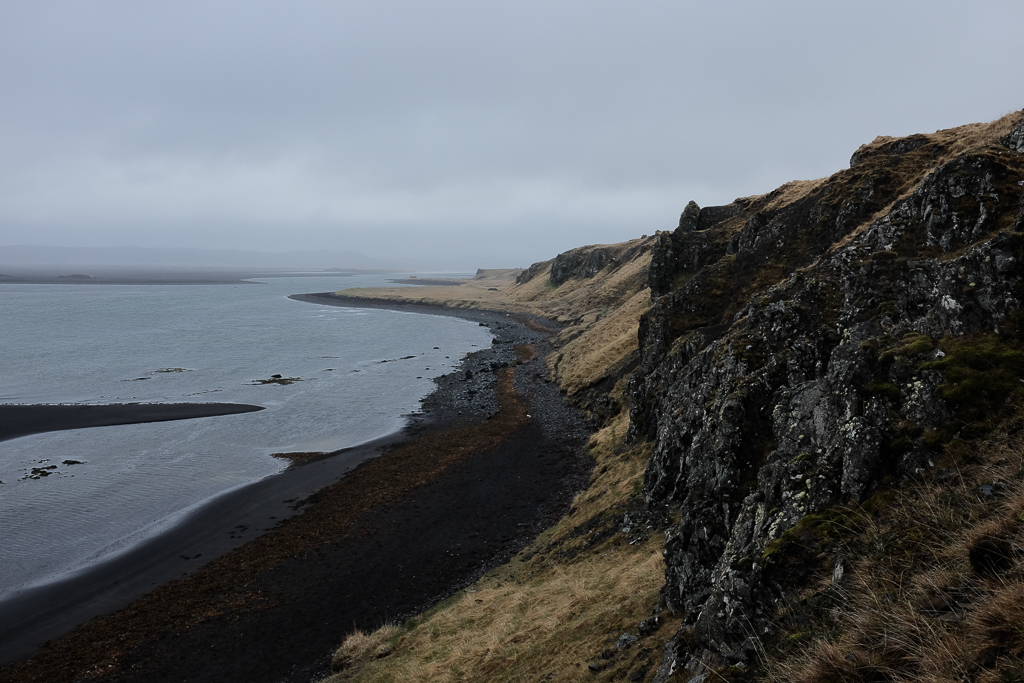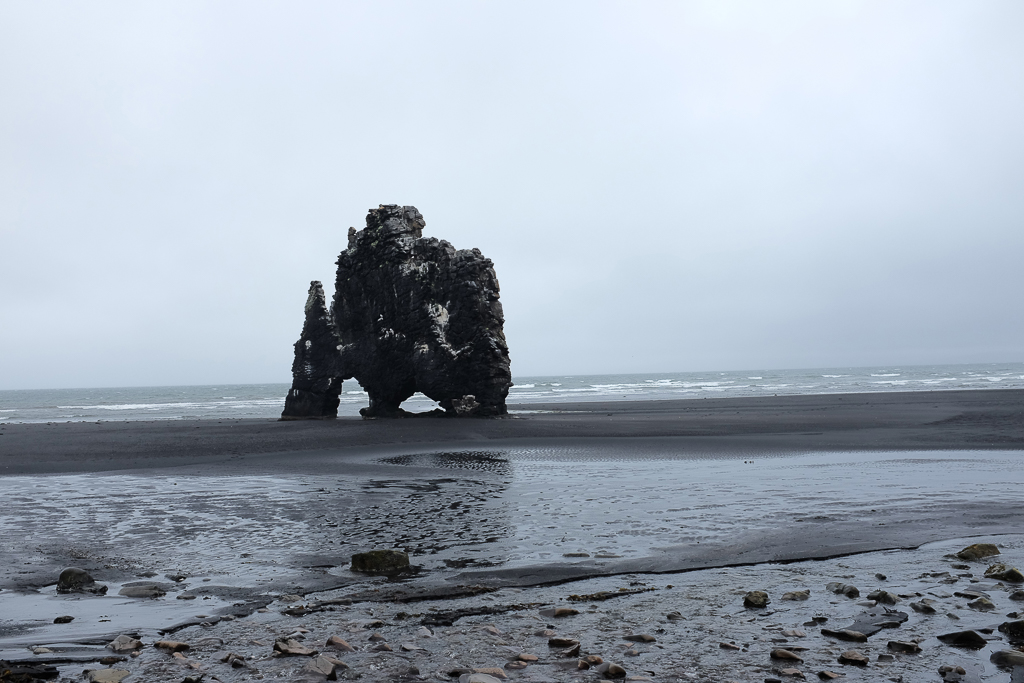 Rauðfeldsgjá Gorge
Although not immediately noticeable from the road, there is a small fissure in which you can enter the gorge. Be sure to bring waterproof gear if you plan on trekking further in as it will require treading through water and careful balance/climbing. There is interesting folklore associated with the Gorge which you can read about here. We didn't go very far in but I definitely plan on it next time around.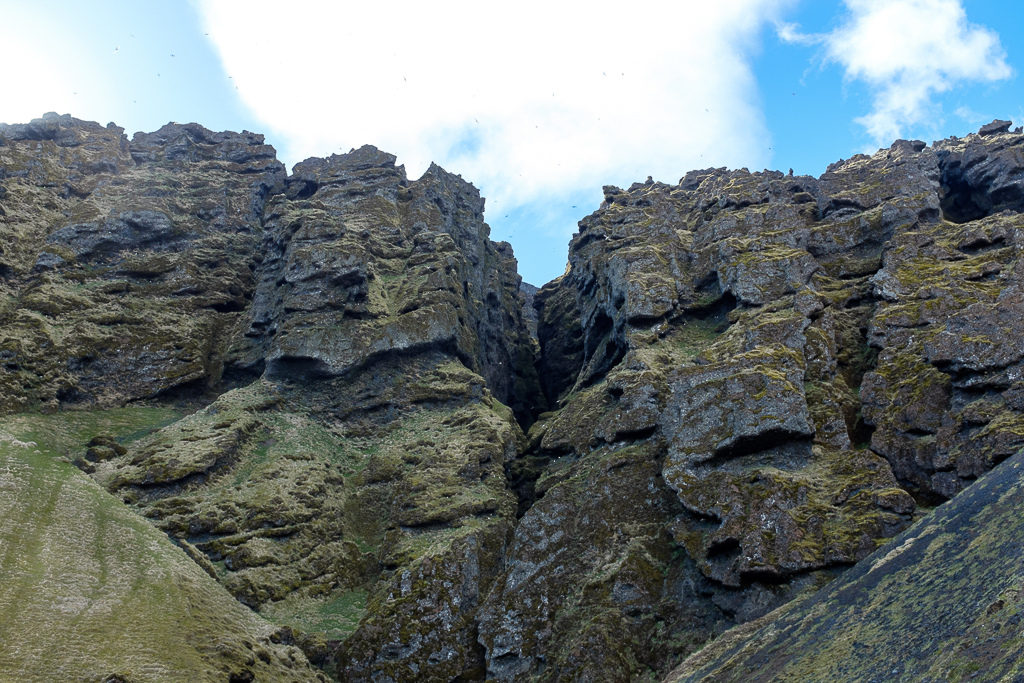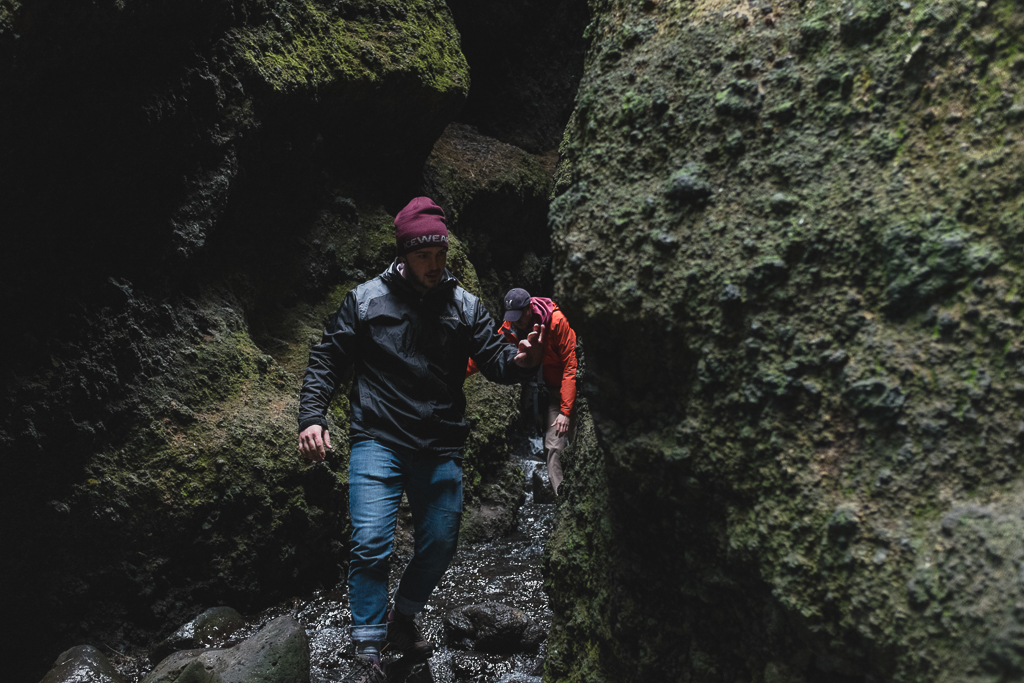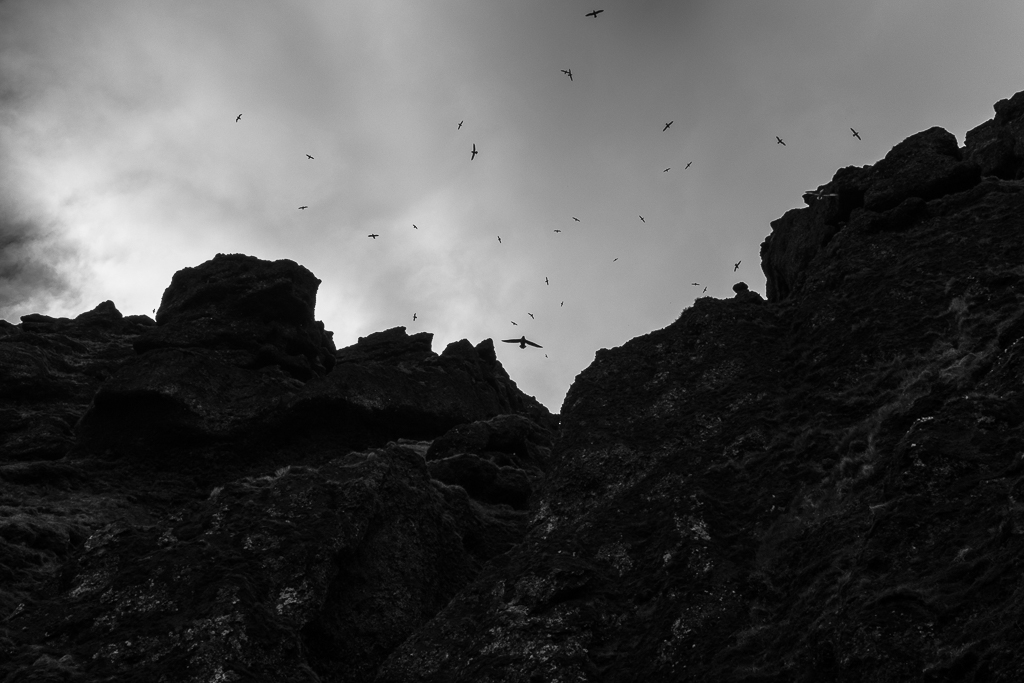 Anarstapi
I highly recommend taking a quick hike along the coastline here as there are some really bizarre and magnificent arches and rock formations.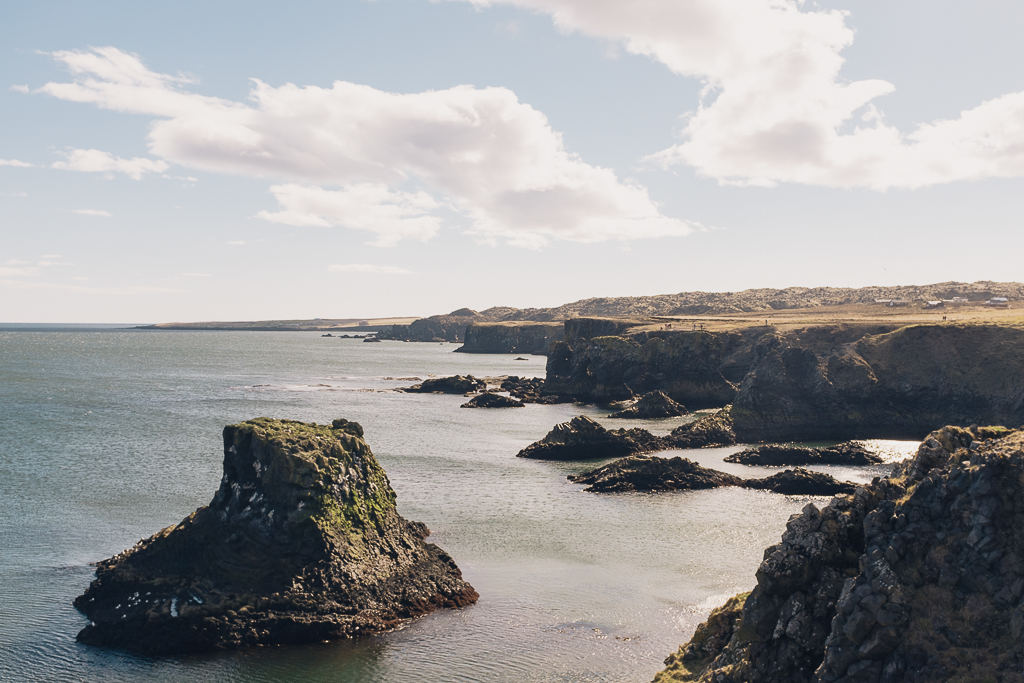 Djúpalónssandur Black Sand Beach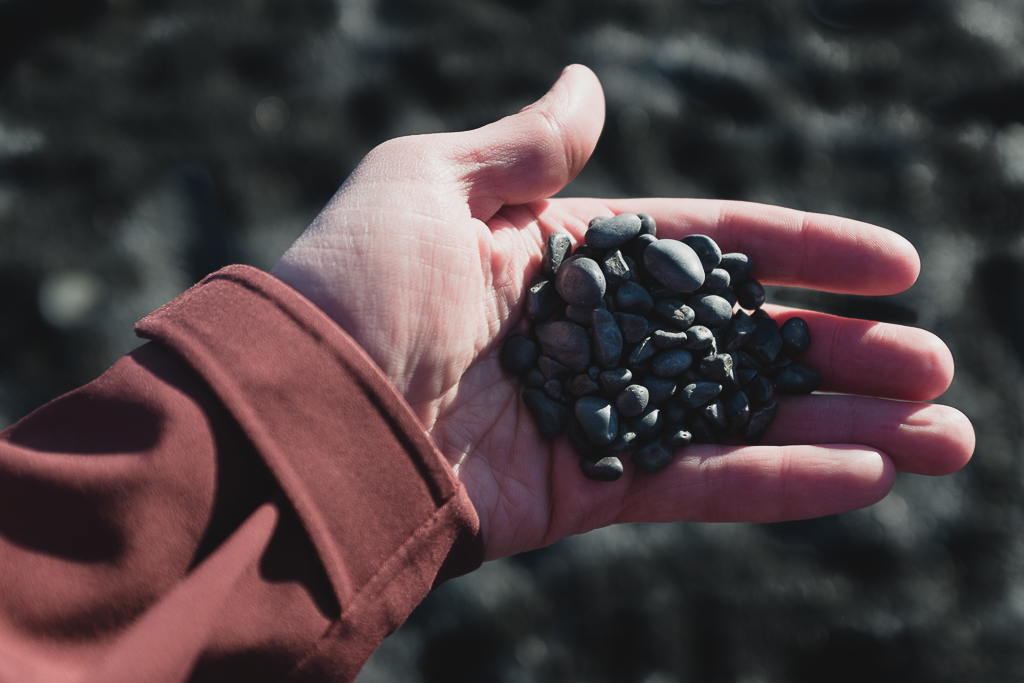 Kirkjufellsfoss
We camped out around the golden hour in order to get the iconic shot of the waterfall with Kirkjufell towering over it in the distance. Initially I was shocked at just how small the waterfall really is. Wide-angle lenses can be so deceiving!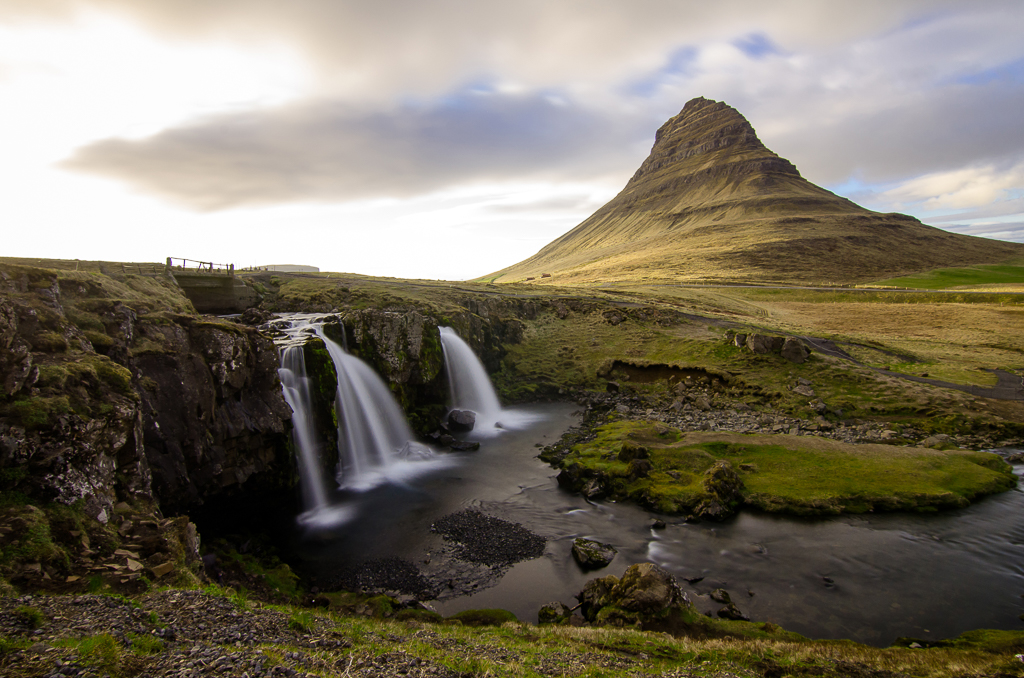 Berg Horse Farm
Berg horse farm was our place of residence for two nights. I found a small, highly recommended cabin on AirBnB and decided to jump on it. The farm was really scenic and the owner was kind enough to let us wander and take pictures of the horses and the surrounding property.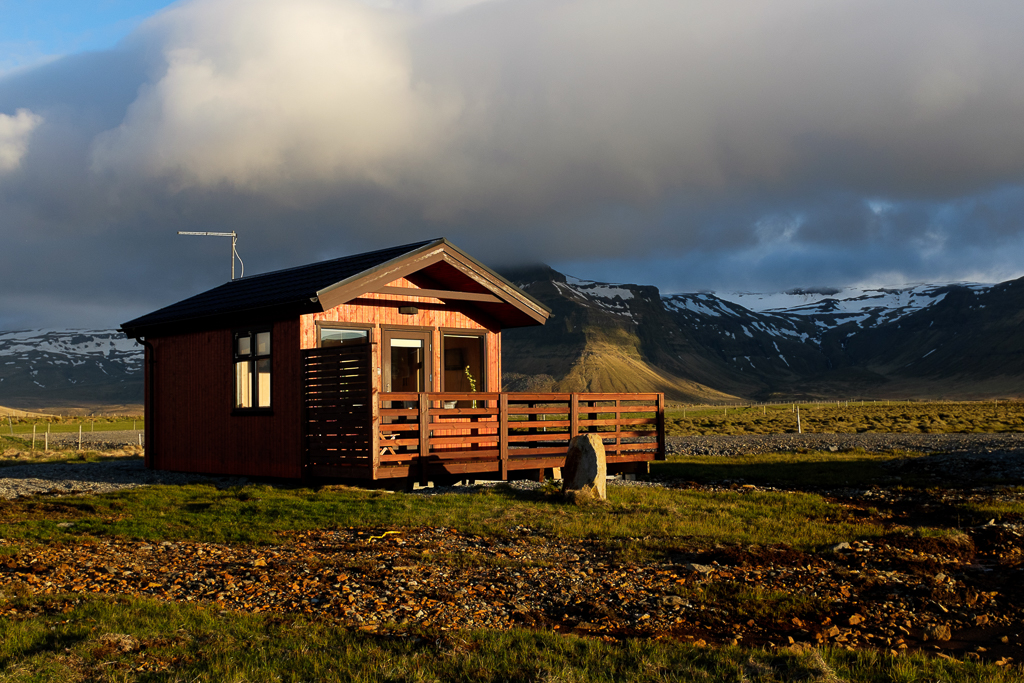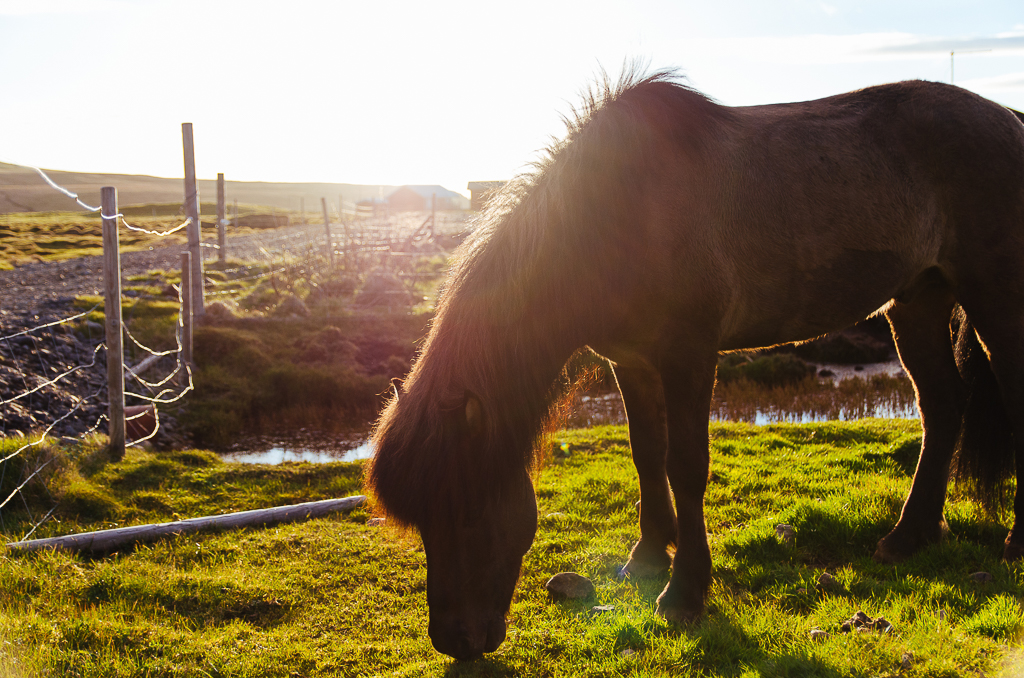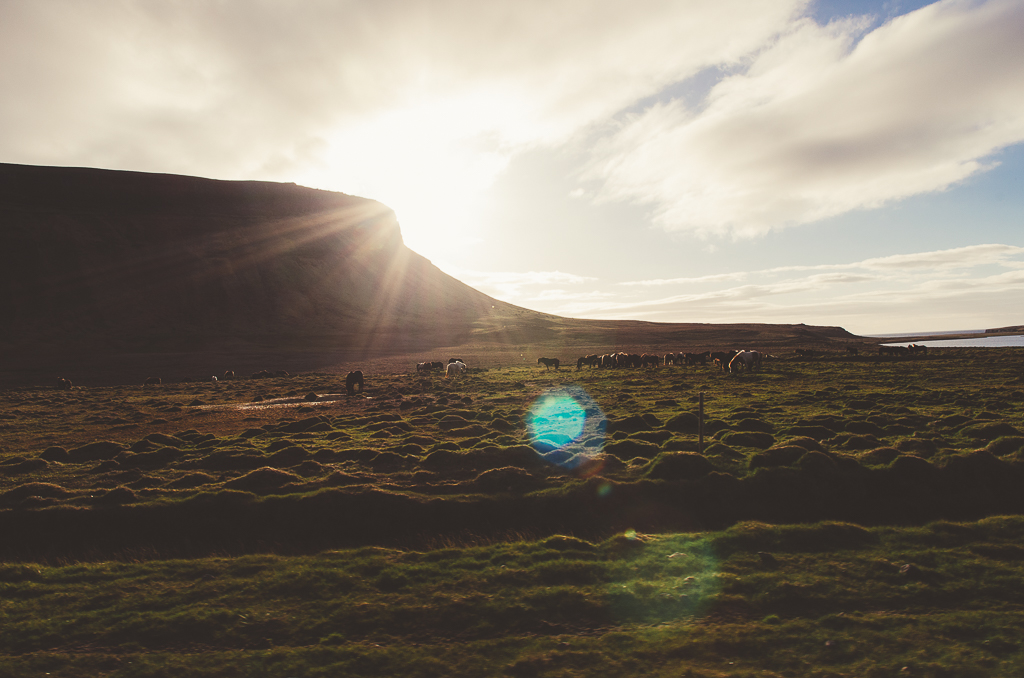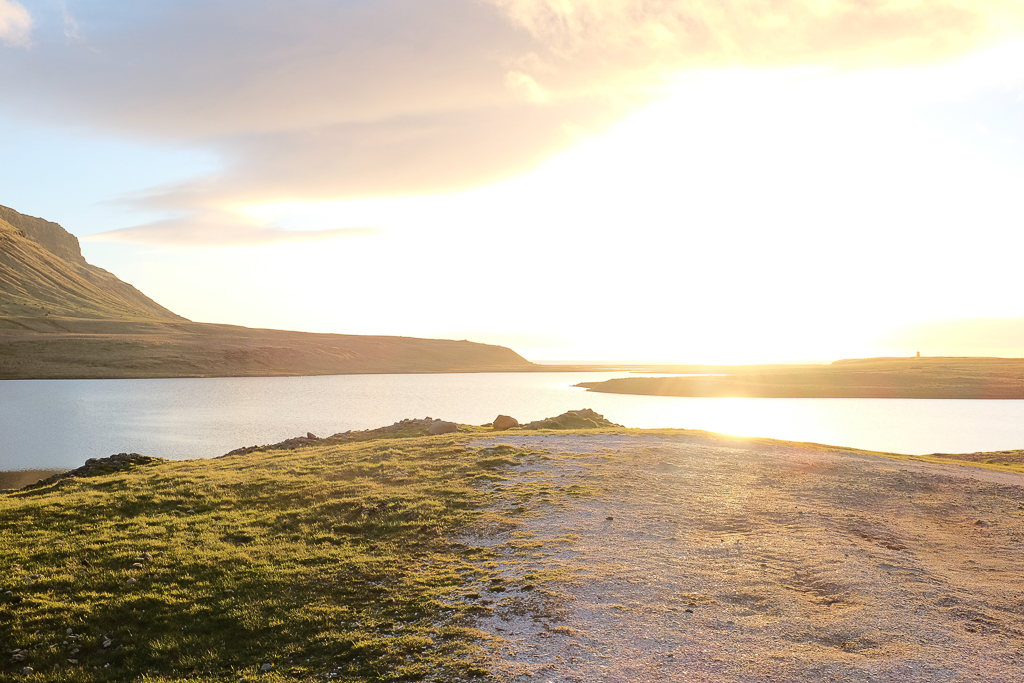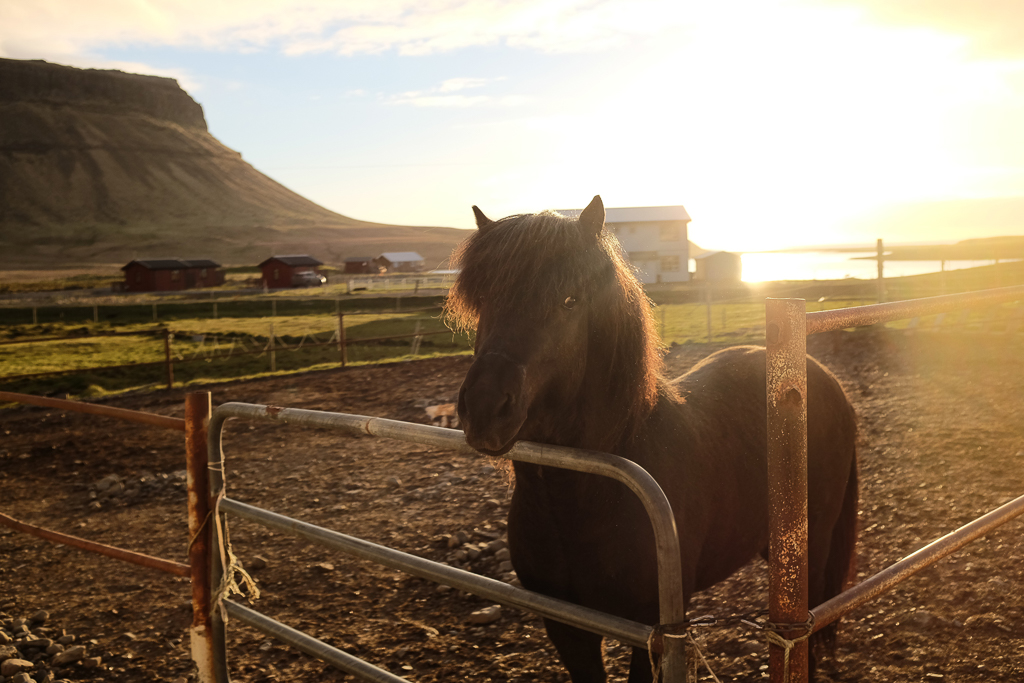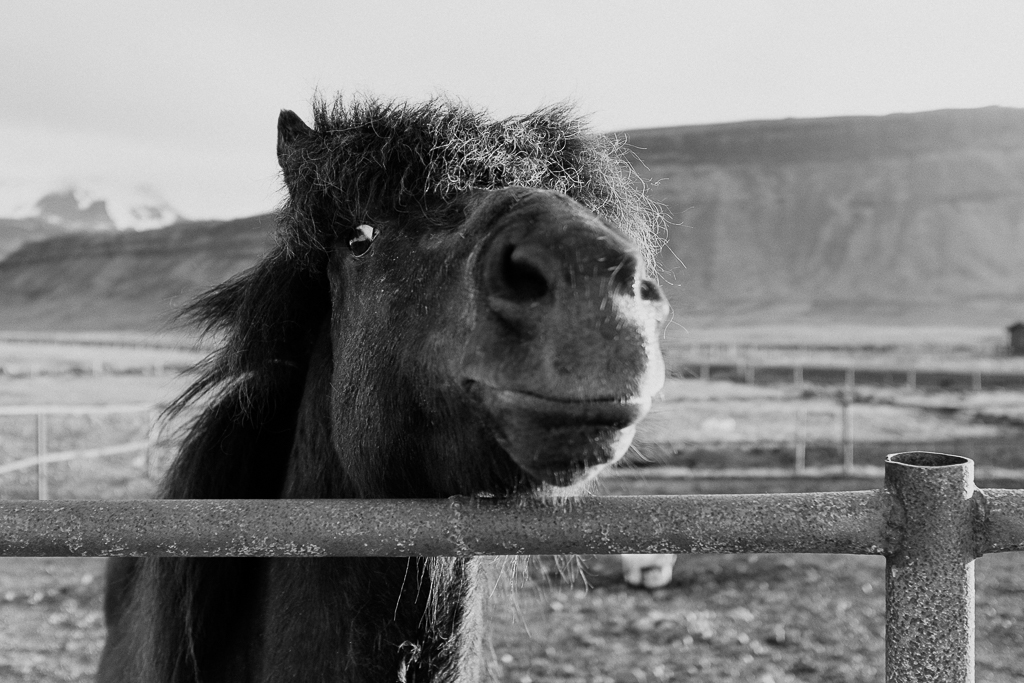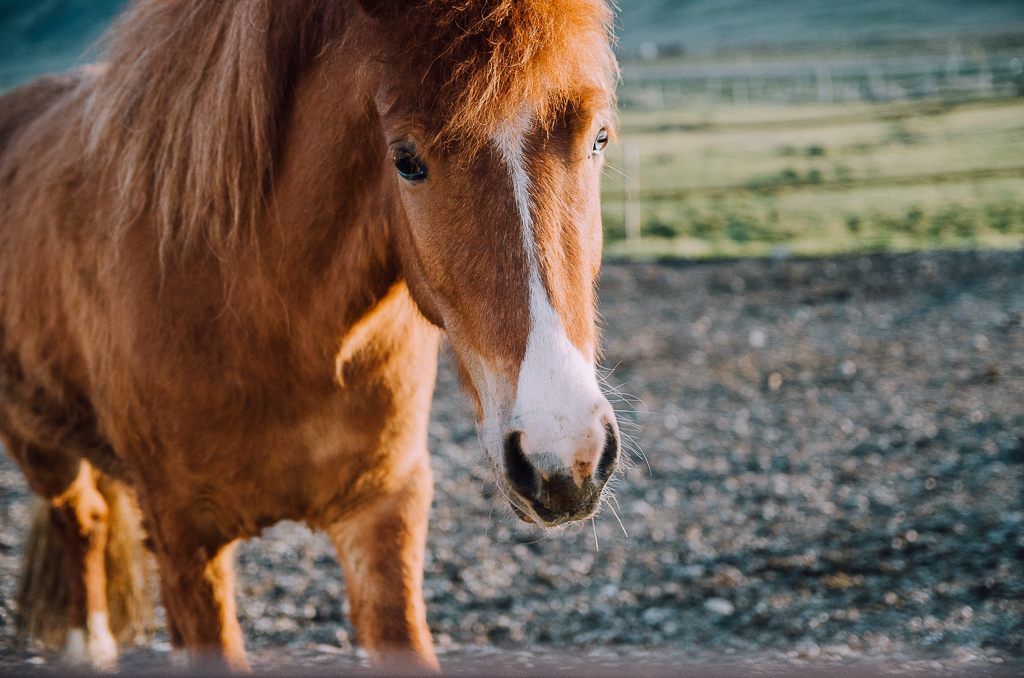 Day 7 – Grundarfjörður
As stated earlier, we spent an extra night at the horse farm. I overestimated just how much there was to do on the peninsula but it was nice to have a day where we weren't rushed to get to the next destination.
We booked a boat trip by the name of "Viking Sushi" in the town of Stykkishólmur. During the boat ride the crew dropped nets and allowed us to eat whatever edible seafood that came to the surface. The scallops were excellent. We also made stops at a few various islands for bird watching and were fortunate enough to see a few puffins. Afterwards we grabbed some lunch and took the scenic route around the peninsula, making a stop at Saxholl and Hellnar. We ended up back in Berg just in time to watch the sunset and roam the farm.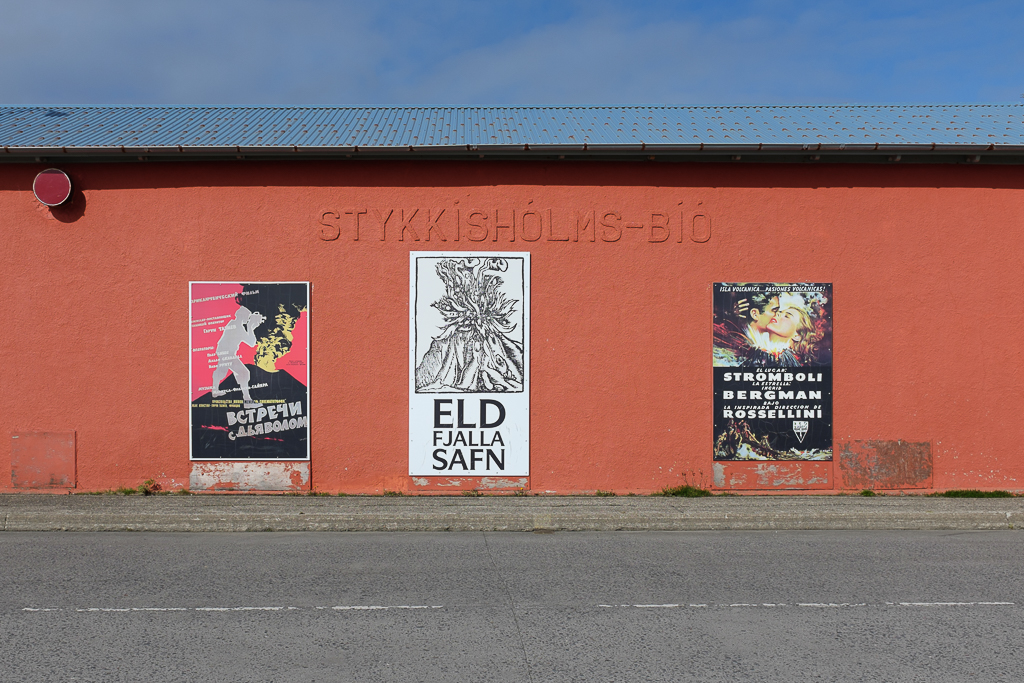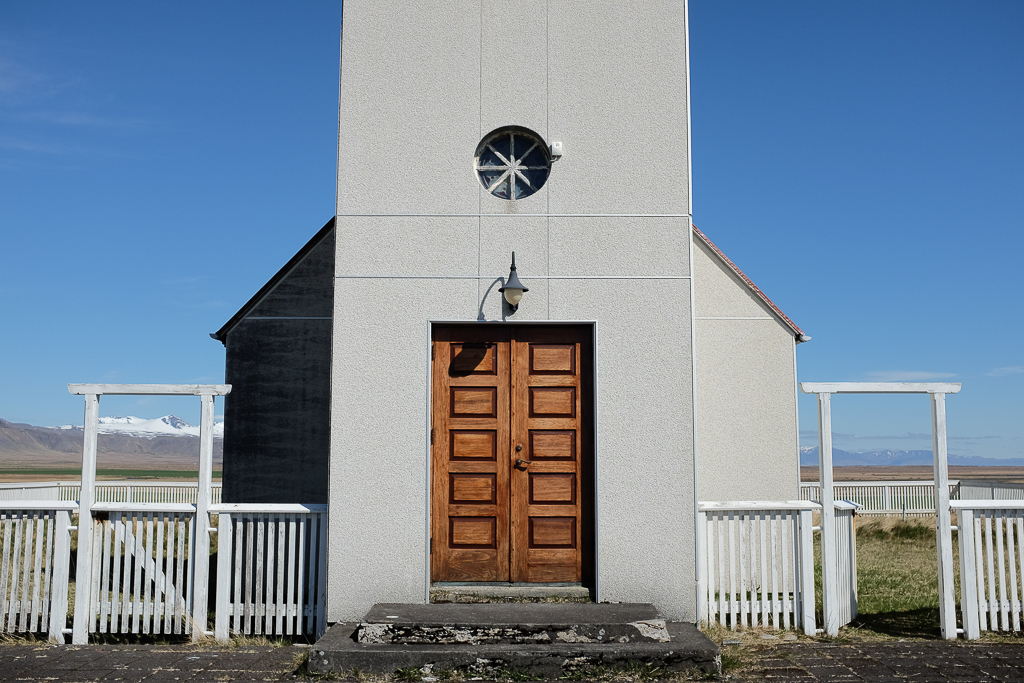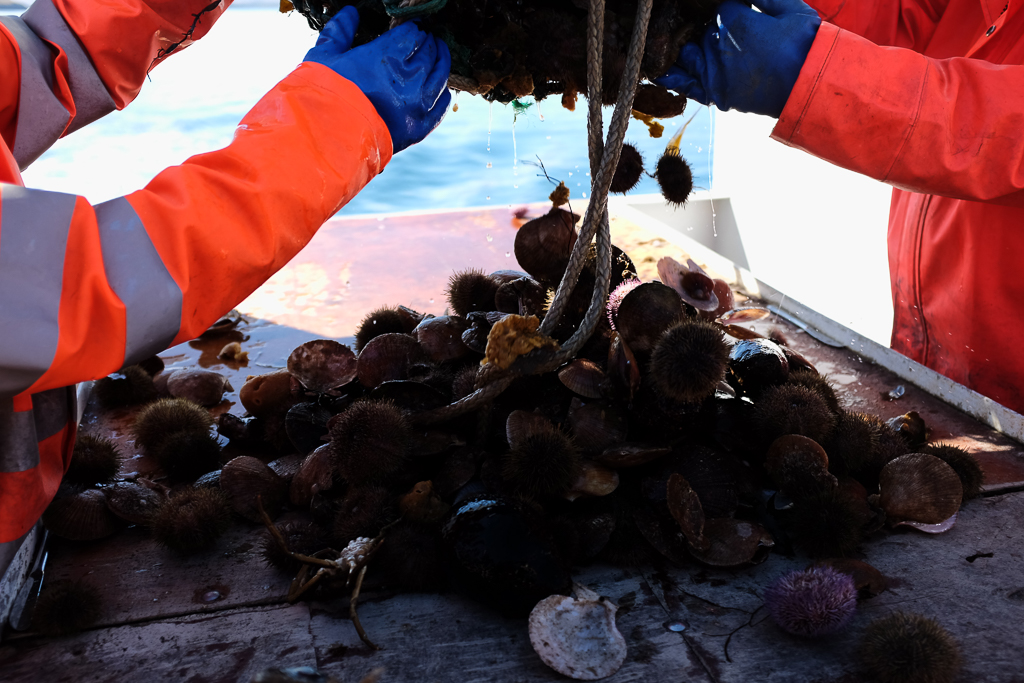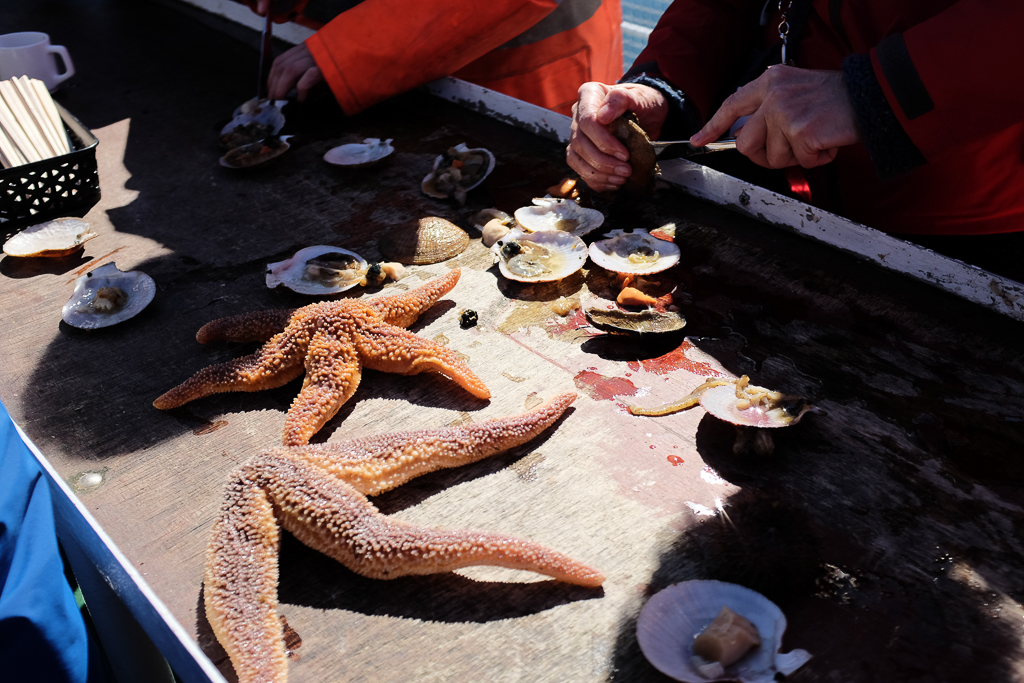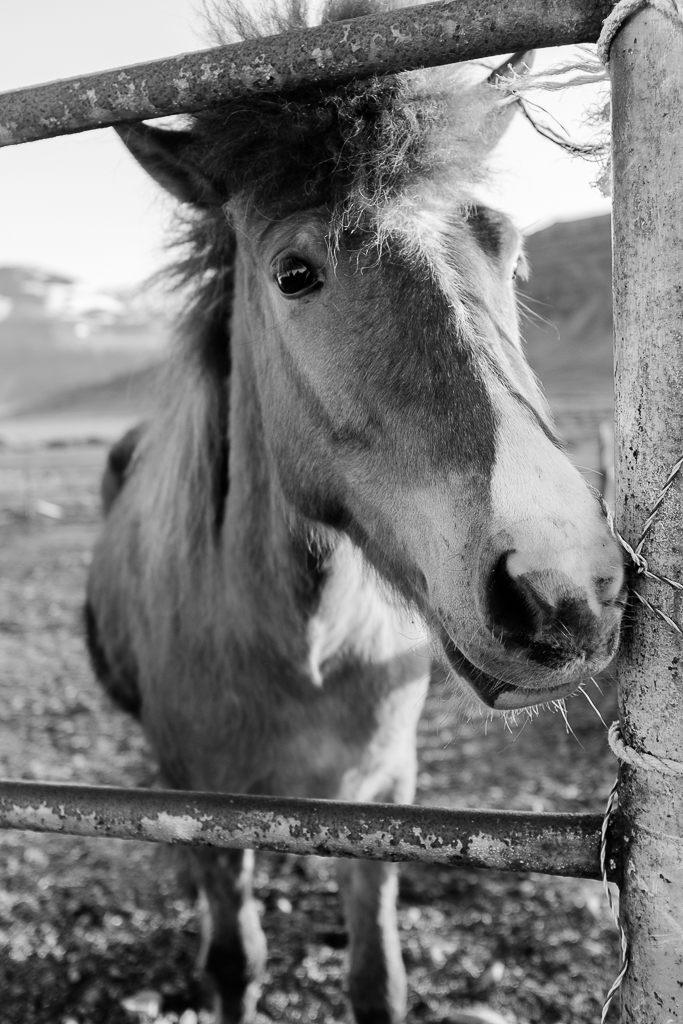 Day 8 -Grundarfjörður → Reykjavík
Reykjavík was an absolute blast! We spent the afternoon roaming the streets, making sure to make stops at Hallgrímskirkja (Reykjavík's famous church) the main street Laugavegur, Harpa Concert Hall, and the world famous Bæjarins Beztu Pylsur for some hotdogs in the afternoon. The city has a very artistic feel and the murals that lined the streets were very cool to see. A view from the top of Hallgrímskirkja can be seen below.
In the evening we celebrated our last day by checking out the nightlife, which while expensive was awfully fun. If you have time, I highly recommend checking out the Brauð & Co. bakery for breakfast.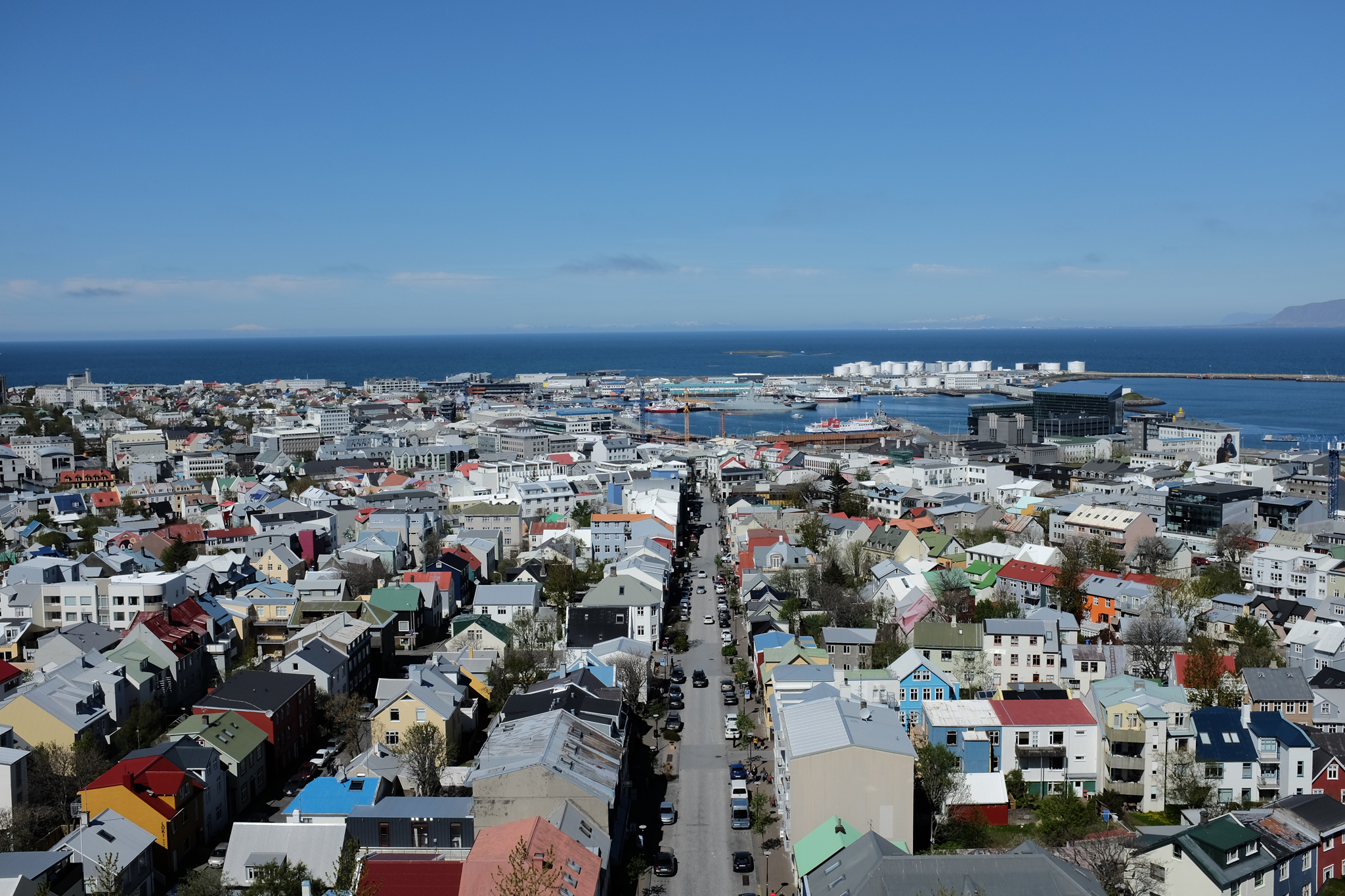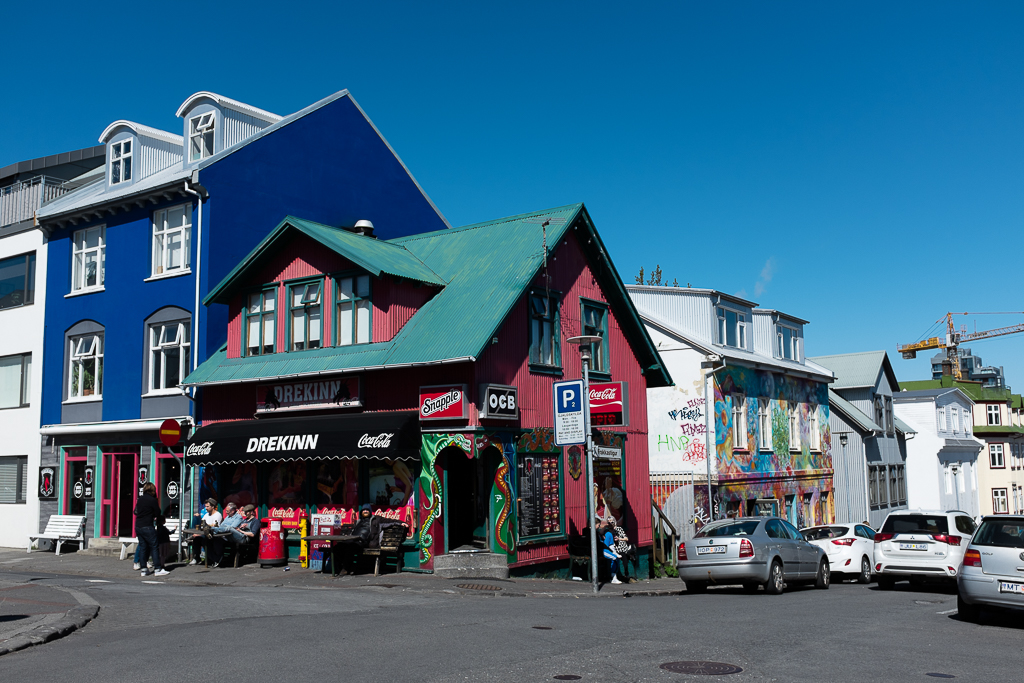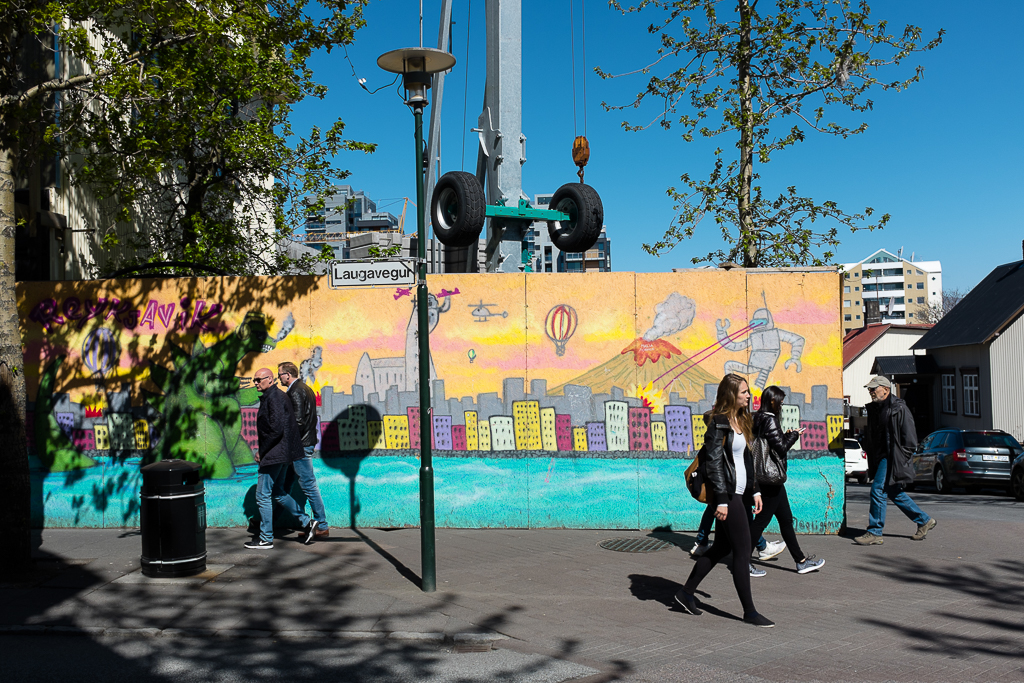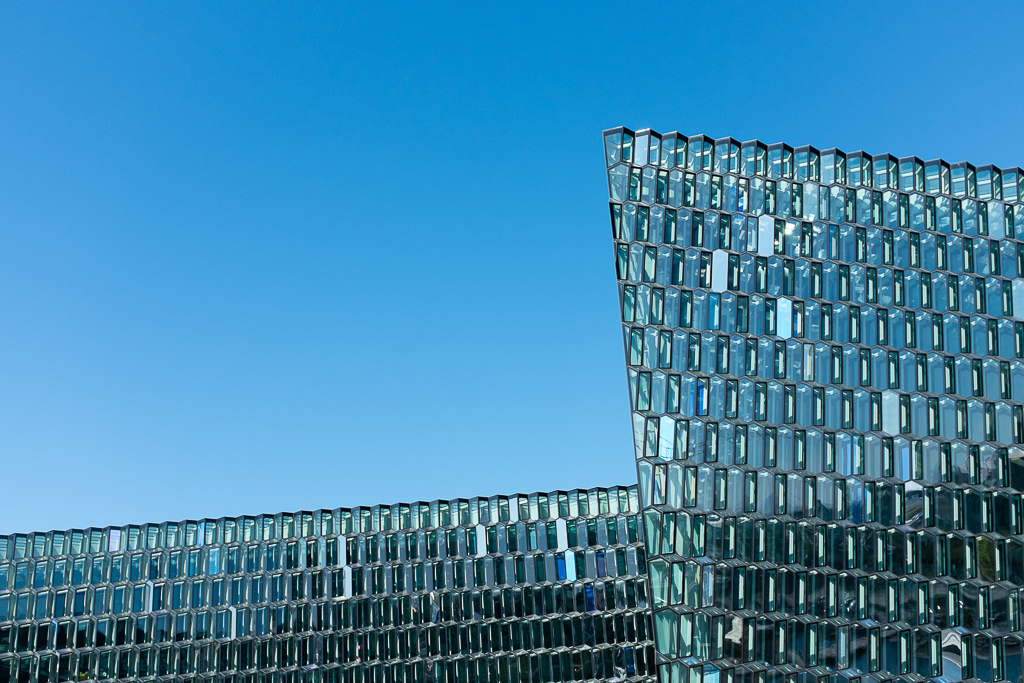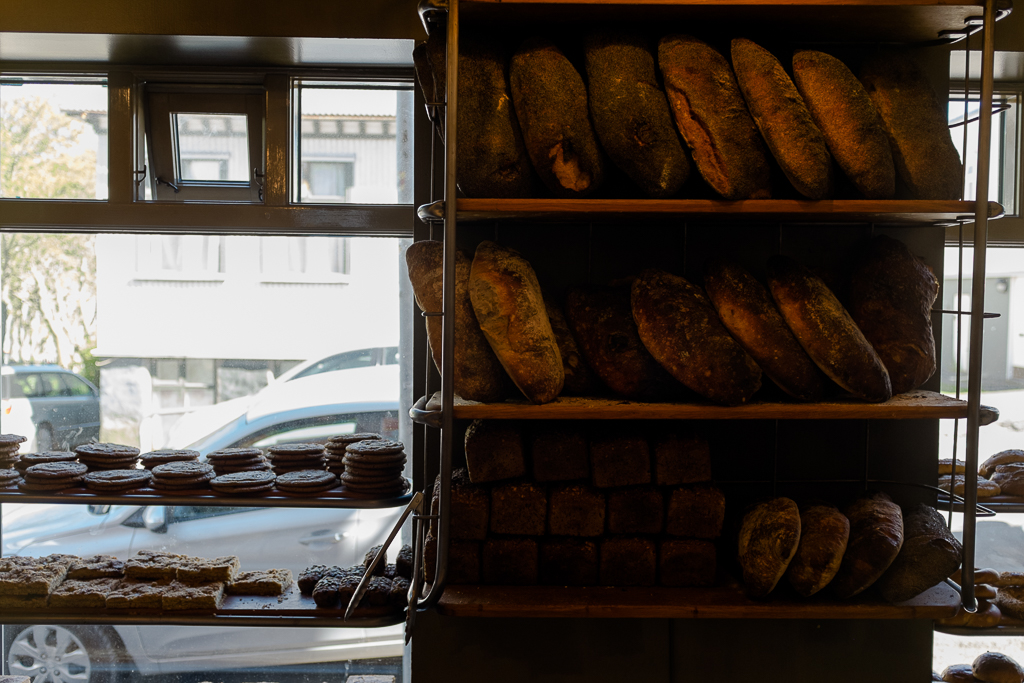 Notes:
All photos were taken with the following:
Fuji x100s
Nikon d7000
Sigma 17-50 f/2.8
Tokina 11-16 f/2.8
50mm f/1.8
---